Theme: Future labour market challenges
Newsletter from the Nordic Labour Journal 8/2020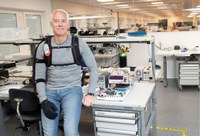 Photo: Denny Lorentzen
The Corona pandemic continues its impact on Nordic citizens, who so far have supported their own governments and other authorities. In Iceland's second city Akureyri, party politics have even been put aside and all political parties have joined forces on the city council.

The work environment of the future will be here sooner than we think, and it will be different from the one labour inspection authorities have been monitoring until now. A new Nordic report considers some threats that look like science fiction. Others are already a reality for many workers, yet we know little about these threats' long-term effects.

You need more than Zoom or Teams. That has become obvious to many businesses as the pandemic has forced most meetings online. As people are getting used to the technology, newly gained experience becomes useful knowledge.

The Stockholm-based company Bioservo marries medical research with new technology with their robot glove. It gives extra muscle power to people with reduced hand function and for those whose jobs put a strain on their hands. This summer they won NASA's invention award.

The Danish government believes people should have the right to retire early on a state pension if they have been working since they were teenagers. Trade unions are rejoicing while employers and others have their doubts.

64-year-old Jan Hansen has been working since he started out as an apprentice for a carpenter at 17. He has been through a knee operation and is waiting for another one, but does not long for the day he retires.

60-year-old Lone Høgh has been on painkillers for years in order to handle her physically demanding agricultural job. She has now retired in order to enjoy her time with her husband and dog.

All five political parties on the city council of Northern Iceland's largest city, Akureyri, have formed a coalition. Until the next election, they must work together to tackle the crisis created by the Corona pandemic and the loss of tourism income.

Old political parties which spend years gathering too few votes fail to engage generations, while new one-issue parties are emerging. Political constellations change while we are waiting to see who might gain some power.

Top leaders on dizzyingly high salaries who pay little tax. A small elite who takes home a big chunk of the national income. No, we are not talking about the USA or the UK – this is Norway in 2020, according to Statistics Norway.