Theme: Reopening the borders
Newsletter from the Nordic Labour Journal 6/2020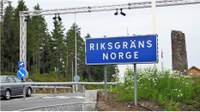 Photo: Björn Lindahl
Will the Nordics emerge strong after the Corona crisis, or has their cooperation been weakened by different forces triggered by the pandemic? The answer is, as so often is the case, complicated.

The bridge linking two Nordic countries is 20 years old this summer. The link has been important for the Öresund region's development. It is also important for the massive project of securing a permanent link between Zealand and Germany.
When the border between Finland and Sweden closed, the entire common market for the whole of Tornedalen disappeared – goods, services, labour and culture. The hospitality and retail sectors are seriously affected. Those who have been furloughed or served notices are starting to fall into unemployment.

Sweden's biggest cities have been the worst hit by the pandemic, and in particular Stockholm. Infection rates have remained low in Sweden's border areas, but municipalities there are struggling economically because the borders have closed.

An economic crisis from 1992, a salmon test from 2000 and an idea for a restaurant from 2013. These are some of the ingredients in the Faroese recipe for how the island society in the North Atlantic and its 52,000 inhabitants would come out out of the Corona crisis better than anyone. So far it has been a rather good recipe.

With the reopening of Nordic schools post-Corona, there needs to be more focus on teachers' working conditions. They made a big digital leap with distance learning and this has been tiring, says Christer Holmlund, the new Secretary-General for NLS, the Nordic Teachers' Union.
Countries tackling the Corona crisis have been trying to bridge a few months while society closes down, allowing as many companies as possible to survive with employees and knowledge intact. This has been the case especially in the Nordics. Politicians have shown willing to spend money in unprecedented ways.
The Nordic Council of Ministers has set aside DKK 1 million for a research project to look at the effects of the measures in connection with the covid-19 pandemic.

Iceland is beginning to open up for tourism after the severe effects of Covid-19 this spring. The virus meant most of the tourism industry had no customers and many companies had to close down. Today, most have reopened and try to attract domestic travellers while waiting for foreign tourists to return to Iceland.

Some 15,000 people commute to jobs across the border between Denmark and Germany, which is 100 years old this year. That makes the border region one joint labour market, yet one with widely differing legislation and workplace cultures on either side.
The taxi platform company Uber spent little time getting four Nordic countries to change their legislation to better suit the company's business model. Despite this, the number of people working for Uber remains low, according to a report on the platform economy commissioned by the Nordic Council of Ministers.