Region Värmland and the Värmland county administrative board use humour in a new campaign to get young people to learn more about gender equality. The aim is to get the young to make more equal choices than today, which is considered necessary in order to create growth and a good life.
"You make nice graphs, yes you have put in a lot of work to find out what makes you the worst. That's something: 'you're the worst for gender equality but good at statistics'," jokes Ludde Samuelsson, one of the nationally famous standup comedians who is helping launch the campaign 'Aha Värmland'.
The launch took place in the middle of February at one of Karlstad's upper secondary schools. One of the standup comedians was there to soften the hard facts presented in the county statistics on gender equality, and two school classes were asked to identify which issues they felt were the most important in terms of gender equality. Equal rights, was the main message, but also equal pay and equal opportunities. 
Using laughter, the people of Värmland – and young people in particular – should realise that gender equality creates a better life and a better society. A 'ha-ha' is being turned into an 'a-ha'. The campaign is run in cooperation with the county administrative board, and is one of seven projects in Sweden which has received funds from the Swedish Agency for Economic and Regional Growth.
"We want to present the statistics we have gathered in a new way, and tell the younger generation who are facing many choices – like what occupation to go for, whether to take parental leave and actually participating and gaining power," says Marianne Nilsson, project leader for gender equal regional growth in Region Värmland.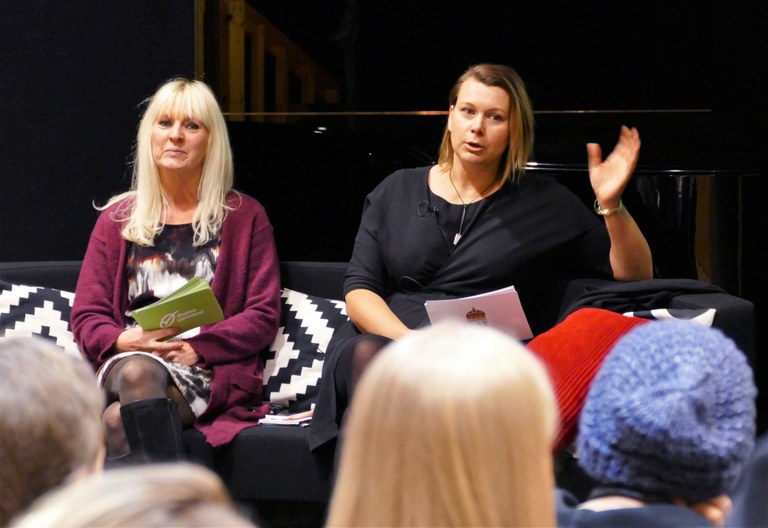 Marianne Nilsson, project leader for Region Värmland and Katarina Jakobsson, gender equality expert with Värmland county administration


Bleak gender equality statistics
In 2006 the county administrative board began gathering gender equality statistics for Värmland. Since 2012 this has been done in cooperation with Region Värmland, which gathers the county's six municipalities and the county council. The statistics show that the state of gender equality is pretty bleak, and that things have been more or less static in the past five years. 
For instance, 9.3 percent of CEOs in Värmland companies are women, and only three out of the 16 municipalities have female mayors. 79 percent of senior politicians and officials are men and 21 percent are women. Many workplaces are either male of female dominated, which can be explained by the fact that Värmland's main trades are steel and engineering industries and forestry, while women seek jobs in the health and care sector. 
There are also big wage differences, and on average men earn 55,000 kronor (€8,800) more each year than women. More men than women are unemployed, but 51 percent of women of foreign heritage are outside of the labour market. 
Looking forward, there is a risk that the gender gaps will prevail. In upper secondary schools, girls go for typically 'female subjects' like care and pre-school, while boys choose technology, construction and industry. And in Värmland, like in many other municipalities, the differences in education levels between young men and women is growing. In 2015 nearly 50 percent of women had a higher education, while 23 percent of men had the same. The total number of people who take higher education is also lower in Värmland than in the rest of the country.
"Värmland is below the national average for pretty much everything," states Marianne Nilsson. 
An attractive county for both women and men
Yet despite the sad statistics, there is a basic optimism at Region Värmland and a desire to change the status quo.
"There is a great desire for improving gender equality in the region right now. If we want to recruit and keep people, we have to be a county which is attractive to everybody. This is a matter of survival and a matter of growth," says Marianne Nilsson. 
The regional director Lars Christensen agrees.
"We have been talking about gender equality for a long time, but only now does it feel like we have reached a tipping point when things can really begin to happen," he says.
His explanation is partly that they have been working for a long time to create awareness about what gender equality entails. 140 organisations are part of 'A gender equal Värmland' and a long-running project called 'Schyst' ('Great') has worked to introduce gender thinking right down to the smallest of meetings. 
24,000 copies of a handbook has been sold and given out, and a copy has been ordered by 1,400 organisations. There have also been more than 100 talks and workshops. The aim is to make people understand that gender thinking is always there; in the way we communicate, place ourselves in a room, in how we relate to power and to each other. The determined effort has got attention, which in turn has increased belief in the work to promote gender equality.
"Through 'Schyst' we became more aware of how we can work. We have also become sought after, which has given us more self confidence. More and more people come to our conferences and more and more want our help. Gender equality has become an issue," says Marianne Nilsson. 
"The communication around 'Schyst' meant everything. There has been a long term change of attitudes through education and skills development," says Lars Christensen.
No collective guilt
Another explanation for the growing interest in gender equality is a change of generations. 
"Today you cannot hire a man or a woman to work in organisations with old structures and old attitudes to issues like parental leave or working hours," says Lars Christensen, who took daddy leave himself. 
Yet he, like Marianne Nilsson, is careful not to blame older men. Värmland does not want to point fingers and use blame in its work with gender equality.
"We should not be afraid to describe the situation, but we should avoid dishing out blame and rather provide keys and tools. I think this is the way you increase people's interest," says Marianne Nilsson.
Lars Christensen says there has been increased awareness, and that the goal is gender equal growth. Gender equality is taken into account when working with many of the region's growth issues, and there is agreement on the highest regional level. 
"This is not about looking better in statistics – this is really important for Värmland's development", said chairperson for the Värmland region Tomas Riste in the press release which accompanied the launch of the 'A-ha' campaign.
Young men must pull themselves together
Even though the county's municipalities look very different – from the growth areas like Karlstad and Hammarö to the border commute municipality of Årjäng and the former industrial towns in Klarälvdalen, gender equality concerns everyone, says Lars Christensen. He has also noticed a growing interest in gender equality among companies. 
"We talk and they do," he sums up, but also wants to point out that it is the region's duty to 'talk' and that the public sector is often as efficient as the private sector in 'doing'. Looking at statistics for Värmland, he also wants to highlight that the business structure is male dominated and that changes to gender equality will take time. 
"There is not one model for for cities and one for the countryside. Gender equality issues are equally interesting in Torsby and in Karlstad. We need to address the basic structures, for instance education. Today, girls carry on studying while boys don't. That in itself is a challenge – men must pull themselves together and young women must be given space. It is not wrong to stay where you were born, but it is important to increase the general level of education," says Lars Christensen.
He does not doubt for a second the importance of gender equality for growth.
"Gender equal and diverse companies are more profitable and attractive. This is a known fact, so gender equality does have great importance for regional development," he says.
And the work to improve gender equality continues. Money is being invested in research to develop knowledge and to break new ground. It is also crucial to get men on board, and not to turn gender equality into a women's issue without getting men to see the benefits. This is happening through projects like one at Färjestad's hockey team.
"We cannot deal exclusively with those who say yes to gender equality. No-one has sole ownership of this issue, and only when everybody is involved can we create a better society and a better life," says Lars Christensen.