Theme: Wage formation
Newsletter from the Nordic Labour Journal 9/2021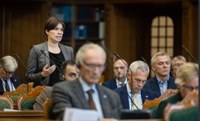 Good cooperation can be about new initiatives as well as protecting things that actually work. What drives developments can be people, new organisations or pressing new circumstances. This issue of the Nordic Labour Journal is a mix of all three components.

When new crises shake the Nordic region, the countries will cooperate on crisis preparedness and keep a close dialogue before introducing closed borders and other restrictions which impact on Nordic neighbours. There is broad agreement for this between the Nordic governments and parliamentarians.

Climate and sustainability get more from the 2022 Nordic cooperation budget, while culture and education avoid planned cuts.
Do you juggle all the balls at once rather than focus on what you should be doing? Or do you prioritise and concentrate on what is the most pressing task? Today's labour market is really testing our cognitive capacity. More and more of us come down with cognitive ill health.
It has been an eventful month for the Icelandic labour market. On the employer's side, representatives of smaller companies formally founded a new association to further their interests, since they believe that they are not properly looked after elsewhere. At the same time, the chairman of one of the largest trade unions in the country resigned after accusations from union employees of bullying.

Hadia Tajik, Norway's new Minister of Labour and Social Inclusion, is a strong defender of trade unions. She will be responsible for what the red-green coalition government calls a spring clean of the labour market.

Why is there so much resistance in the Nordics against the EU Commission directive on minimum wages? The answer is that the countries believe they have a nearly perfect system of collective agreements, so why change something that works? In many European countries where the social partners are weaker, extensions of collective agreements form an important part of the wage model.

Many workers enjoy improved conditions thanks to the extension of collective agreements. One leader of a trade union organising fisheries workers believes the solution must continue even though it is not a magic solution.

Immigration to OECD countries fell by 30% in 2020 to 3.7 million people. That is the lowest level since 2003. Denmark, Finland and Norway received fewer asylum seekers per capita than the OECD average, while Iceland and Sweden took in considerably more.