Theme: The two sides of equality
Newsletter from the Nordic Labour Journal 2/2019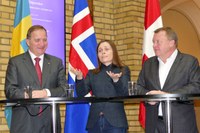 Photo: Björn Lindahl
On the 8th of March, the entire world focuses women's rights. The NLJ's gender equality barometer mirrors a small part of the gender balance in the Nordic region; whether there is a man or a woman in 24 positions of power. This year saw a modest increase in the number of women, but the trend is nevertheless clear. Gender equality is on the rise, even though things are moving slowly.

The past year has seen two new governments emerge in the Nordics, and several changes among the top brass in labour market. But there were only modest changes to the gender balance. Women get one point more and end up with 66 points in the NLJ's gender equality barometer, where 100 points means equal power distribution between the genders in the Nordic countries. But Iceland overtakes Norway.

When Malte Conrad became a father three years ago, he wanted to take as much paid parental leave as possible. This summer he will be the father of twins, and wants to do it all again.

Danish men who would like more paternal leave get support from new EU rules. But there is broad opposition in the Danish parliament to what is being seen as the EU meddling in Danish family affairs.
Finland's basic income experience came to an end 2018. The 2,000 unemployed people who received a basic income for two years instead of other benefits did not work more in the end, but they grew happier.

The gender wage gap continues to narrow in Sweden. But take a closer look at the numbers, and you see that not everyone is part of the positive development. Ahead of the 8th of March, LO again warns that women in blue-collar jobs are lagging behind.

On the 4th and 5th of April, Iceland will be hosting the final out of four Nordic conferences ahead of the ILO's centenary celebrations. The Future of Work conferences represent a very important forum not only for Iceland, but for the entire Nordic region, says Iceland's Minister for Social Affairs and Children Ásmundur Einar Daðason.
While the Danish trade union movement has got a new main organisation, their counterparts, DA, have got a new female leader who aims to bring together some very different member companies.