Theme: The many faces of inclusion
Newsletter from the Nordic Labour Journal 4/2019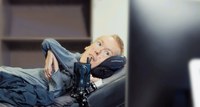 Photo: Stendi
It is hard to generalise about labour market inclusion. Everyone who fails to join or who drops out have their own story. But we are getting more detailed comparisons between the different Nordic countries.

Nordic citizens should be able to use digital ID and use digital services in neighbouring countries, says the new Secretary General of the Nordic Council of Ministers. She wants to continue delivering results that really benefit the region's citizens.

Right now, Nordic labour ministries are busy working with two EU directives. The directive on the posting of workers is being expanded, while a new directive on transparent and predictable working conditions is to be implemented.
Norwegians and Swedes retire later than their Danish neighbours, partly because their pensions keep growing with each extra year they spend in the labour market. This is one of the 11 good reasons a new report highlights for Denmark to learn from what Sweden and Norway do.
Kristine Ronæss Årdal has cerebral palsy, and certain environments make integration difficult. In her experience, positive attitudes combined with physical facilitation is often easier to achieve than many think.
Inclusion is something which all the Nordic countries treasure. Yet while they agree on the goal, they often use different measures and have different ideas for how the labour market should work. How, for instance, does an education system using a lot of workplace training impact on those who do not finish their education? Does strong employment protection help youths?
Torstein Lerhol can only move one finger, but feels he can contribute to society just like anybody else thanks to the support he gets from his home municipality of Vang in Oppland, Norway. He wants to give something back. That is why he will run for mayor this autumn.
Psychosocial strain of work will increase as the transformation of work accelerates. We must therefore take a more comprehensive approach to risk assessments. That is the main message from the Finnish Ministry of Social Affairs and Health's new policy for the work environment until 2030.

Who is best out of Denmark, Norway and Sweden at integrating refugees into their labour market? The answer depends at what stage after the refugees' arrival you measure the success. Refugees to Denmark find jobs faster, but in the longer run more refugees get jobs in Sweden than in Denmark. Norway is the clear winner when it comes to integrating female refugees.