Theme: The green transition
Newsletter from the Nordic Labour Journal 4/2021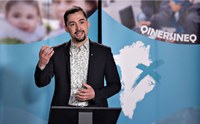 Photo: Christian Klindt Sølbeck
The green transition and Greenland. Are the two linked? The election result which turned the power balance upside down on the island was influenced by a controversial mining project. It promised an abundance of rare earth materials needed for lithium batteries that are used in electric cars and wind turbines.

Nordic trade unions should work with their colleagues in Germany to make sure the green transition happens in a just way. Together they can be strong enough to get this trade union perspective on the agenda.

In 2023, 60 Danish families will move into a cutting edge building made from climate-friendly materials that can be recycled or reused. This kind of sustainable and circular construction is being accelerated and the Nordics are playing an important role.
The Nordic countries are working intensively together to reduce the climate impact from the construction industry both in the region and elsewhere in the EU.

Seaweed has been rediscovered as a resource with a range of uses point out ecopreneurs and researchers. But it is also under threat, according to a fresh report from the Nordic Council of Ministers.

In Denmark, researchers, companies, authorities and interest organisations have come together in Tang.nu (Danish for Seaweed Now), a project exploring how seaweed farming might help create cleaner oceans and how to use seaweed biomass as food and animal feed.

The number of petrol stations has slowly fallen for many years. Soon there will be more EV chargers than petrol stations in Norway.

The construction of Northvolt's electric car battery factory in Skellefteå in Västerbotten County represents one of the largest industrial investments in Swedish history. Within five years, 3,000 people will be employed to produce a car battery that is environmentally friendly to produce and to use.

Which language should the Nordic region choose for its future cooperation? The common Scandinavian which is spoken by three-quarters of the Nordic population? Or do we take the consequences of an ever decreasing understanding of languages and turn to English? Is the Nordic identity at all built on a common language?

Greenland's natural resource fairytale must not come at the expense of Greenlanders' health, welfare and job opportunities. That was the clear signal from voters as they went to the polls to on 6 April 2021 and got a new coalition government.

Sexual harassment in the care sector has had less attention than harassment in other sectors. Patients behaving inappropriately is often seen as part of the job. "High tolerance levels represent a problem," says Bryndis Elfa Valdemarsdottir, who has been heading the Icelandic part of a Nordic project looking at this problem.

Can new technology, and mainly digitalisation, help people with disabilities do better in the labour market? A new report from the Nordic Welfare Centre is not optimistic.
Yet another EU directive dealing with wages is in the pipeline. This time it is about pay transparency and the aim is to improve compliance with the principles of equal pay for men and women. The proposal is said to be inspired by good experiences from Denmark and Sweden, but differs quite a bit from what is common practice in those countries.