Theme: The fight against unemployment
Newsletter from the Nordic Labour Journal 5/2020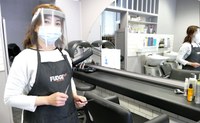 Photo: Björn Lindahl
We all benefit from measures to prevent transmission, but the economic consequences are not equally divided. The contamination risk must therefore be measured against the economic consequences, now that the Nordic countries are entering a phase of reopening their societies.

The Nordic countries will take historically huge steps to limit the economic and social consequences of the Corona epidemic. The governments sometimes chose different measures to fight contamination, with different economic consequences. To get out of the crisis, greater cooperation is needed.

As the top boss for the Danish Agency for Labour Market and Recruitment STAR, Maria Schack Vindum has been busy after Corona suspended large parts of the country's employment policy, created mounting unemployment and cleared the way for new solutions.

In just four weeks, unemployment in Iceland rose fivefold. At the end of February, 10,000 people had no jobs. By the end of March, the number was 50,000. This has never happened before, says Unnur Sverrisdóttir, head of Iceland's Directorate of Labour VMST.
As a result of the Corona pandemic, unemployed people are streaming to the Swedish Public Employment Service. This is putting pressure on an already strained organisation, which has cut 3,500 jobs since the spring of 2019.

As unemployment rises rapidly, many Nordic farmers worry how they will get hold of foreign seasonal workers. The hardest hit are gardens, strawberry farms and other agriculture.

Many Norwegian workers have become pessimistic about the future since the corona epidemic broke out. Those with the lowest levels of education and lowest pay have been the hardest hit. People between 30 and 44 are exposed shows a study from the Norwegian Work Research Institute WRI.
I remember the day the Norwegian Labor and Welfare Administration, (NAV), sent me that letter answering about a non-economic help I have applied weeks before, I needed to speak with a counsellor. I said I was a journalist and that I wished to find a job which would match fields of my competence, so I wanted to speak with someone.

A stop to public performances gave choreographer Yaniv Cohen (42) the idea for Flekk. A faceless creature giving work to furloughed dancers and birthday fun to children.

Sedentary work has become one of the main challenges identified in the third major study of European work environments from the European Agency for Health and Safety at Work.

Rambøll employees enjoy working in open-plan offices, but also see the need to follow Norway's infection control rules. Researchers are warning people to be even more cautious.