Theme: Social benefit agencies in stormy seas
Newsletter from the Nordic Labour Journal 8/2019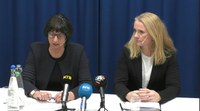 Photo:ASD
The word fraud has been used a lot in the welfare debate in the Nordics this autumn. In Norway, the "NAV scandal" has been dominating the news. In Denmark, an employee at the National Board of Social Services is in court charged with embezzling more than 100 million Danish kroner, while unemployment statistics for Sweden have been compromised.
It has been called Norway's worst ever miscarriage of justice. Thousands of people were accused of cheating the benefits system when accepting unemployment allowance and other support while living abroad. It then turned out it was never illegal – as long as it happened within the EEA.

Should an employee get a lesser sentence if it is easy to steal from the employer? This issue is currently being debated in the criminal case brought against Danish Britta Nielsen, who stole more than 100 million kroner (over €13m) from her employer, the Danish National Board of Social Services. The money had been allocated to disadvantaged citizens.
Swedish unemployment statistics for the past year have been revised. A subcontractor provided numbers that turned out to be wrong, and is now accused of cheating.
For many years, Swedish authorities considered it to be people's right to take their so-called guaranteed pension (garantipension) with them if they moved abroad. Yet, a couple of years ago, the EU Court of Justice made it clear that Sweden was not at all obliged to pay the guaranteed pension to people living in other countries.

"More and more people chose to be transnational. They don't want to live in just one of two countries, but in both. This might not be a huge number of people, but they do represent a challenge for national welfare systems," says Jørgen Carling. He has spent several years leading a research project looking at the phenomenon at Prio.

Who are the richest one in a thousand in Finland – the euro millionaires? How do they view themselves and other Finns? These issues are being explored in one of the most discussed books this autumn: Huipputuloiset – or something like The Top Earners in English.

Cleaning is about to become a male-dominated occupation. It used to be nearly exclusively women who worked the mop. Now men, especially those with an immigrant background, are taking over according to a report from the Oslo Institute for Social Research.

The Arctic Vocational Foundation has secured funding from Sweden, Finland and Norway for a further four years of vocational training for youths. A total of 285 youths will be trained every year.

Fighting climate change is no longer a choice, but an absolute necessity which means our countries, our citizens and our industries must make great changes. That was the message from the Nordic prime ministers at the Nordic Council's session in Stockholm.