Theme: Sick leave being scrutinised again
Newsletter from the Nordic Labour Journal 1/2019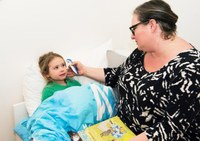 Photo: Annette Andersson
Nordic labour markets have seen major and at times dramatic changes at the start of 2019. In Sweden 4,500 employment service workers have been made redundant, in Finland sick leave levels are rising and Denmark now has two rather than three trade union confederations.

Sick leave linked to psychological ill health has increased in Finland in recent years. According to research from the country's Social Insurance Institution, there is a link between the increase and many years of economic growth. This has happened before.

In Sweden, February is often known as Vabruary, because that is the month most parents chose to vabba, a Swedish term for taking time off to look after sick children. Now it is becoming more common to stay at home with sick children while also working, This is known as vobba, and is proving somewhat controversial.

After 17 years, the Inclusive Workplace Agreement (IA) was renegotiated and changed in late 2018. No-one still knows for sure how to reduce sick leave levels, but the remedies in the IA agreement will now be available to all companies.
Gissur Pétursson worked in the Icelandic Directorate of Labour for more than 20 years, but has moved on to become the top civil servant in the Ministry of Social Affairs and Children. The ministry has just changed to focus on four areas; children, housing, social insurance and the labour market.
What does the labour market look like for unemployed employment service workers? The question is suddenly relevant for a lot of staff at the Swedish Public Employment Service. 4,500 of them were given their notice on the 30th of January this year. The reason: the January agreement which one week earlier led to a new government in Sweden.

A joint trade union confederation with all of the country's unions as members? Denmark took a big step in that direction on 1 January.