Theme: Language technology and Nordic cooperation
Newsletter from the Nordic Labour Journal 8/2021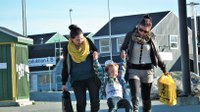 Photo: Björn Lindahl
The Nordic labour markets are starting to heat up. Unemployment in Denmark has come down below where it was before the pandemic. In Iceland, wages have been rising so fast that the country at times has had the highest wage increase in Europe.

On 27 September, the Swedish government took another step in the fight against work-related crime when it presented a delegation tasked with increasing knowledge about the issue while supporting the authorities working to stop it.

It is hard to find tradespeople who have time for new projects and the Danish film industry is short of everything from actors to scriptwriters. Businesses are asking the government for more foreign labour.
In August, Iceland's monthly wage index increased by 0.3%. The index had then risen by 7.9% in the last 12 months, which is more than in most other European countries. The increase from the first to the second quarter of this year was 8.1%, the third-highest in Europe.

The Nordic institution NIVA, with headquarters in Helsinki, organises courses within the field of occupational health and safety for participants in and outside of the Nordic region. When Corona hit, NIVA managed to cancel all future courses and replace them with online versions – all in one month.
The Nordics have considerable influence in the international debate on work environments. That was also evident during the 22nd world congress on work environments and security, held from 20 - 23 September in Toronto, Canada.

Language technology development has accelerated rapidly. This is important not only for those who make a living from translation – be it interpreters or translators – but for all businesses with cross-border contacts or those that have to relate to different languages. Are the Nordic countries ahead of the curve or are the IT giants like Google, Apple and Microsoft about to take control over important parts of our languages?

A common digital platform for topical conversations with Nordic profiles could raise awareness about what is going on in our neighbouring countries – just like television once did. New technology makes it easier to cross national borders.

The cost of interpreter services in the public sector has risen sharply in Norway. In 2019 the total cost was 843 million kroner (€85.3m). In six years interpreter costs have gone up by 72%. But not using interpreters at all can quickly become even more costly. New interpreter legislation could improve the situation.

Languages that are not used in the digital world will not survive. That is the brutal message which formed the basis for the Nordic language meeting – a two days long conference on the latest development in language technology.
The European Public Service Union EPSU lost on all points, while EU Commission's claim was upheld – arguing it was not obliged to execute or carry forward new agreements that have been added to the social dialogue for decisions in the Council of Ministers, writes the latest issue of EU & Arbetsrätt.