Theme: Fatal workplace accidents
Newsletter from the Nordic Labour Journal 6/2019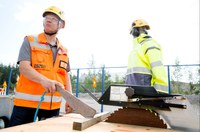 Photo: Maria Rosenlöf
New labour ministers have recently been appointed in three of the Nordic countries. In Finland and Denmark as a result of elections, in Sweden because the government nominated Ylva Johansson to a role as a new EU commissioner.

Much is expected from the new Finnish Minister of Employment Timo Harakka. His background is unusual for a politician. The ministerial post came as a surprise to him too. As an MP he focused on the economy and the environment.
The Danish labour market is facing major changes if Minister for Employment Peter Hummelgaard manages to get support for his plans. He wants to fight for fairer conditions for people with lower levels of education and for those in low-paid jobs.
What goes on inside the head of a trade union leader? At the NFS congress in Malmö they were challenged to spend one minute to describe what they see as the greatest challenge going forward. Here are some of the answers:

"There are no jobs on a dead planet" was the most cited slogan at the Nordic trade unions' congress in Malmö from 3 - 5 September. The climate issue is at the forefront of the trade union movement's mind too.

Two years after the #metoo movement exploded in social media and became a global phenomenon, Iceland's Prime Minister Katrín Jakobsdóttir will be hosting an international conference on the issue in Reykjavik from 17 to 19 September.

It has become an increasingly common sight in many cities: Foodora's bike riders home-delivering restaurant food. But right now in Oslo, hundreds of striking riders are cycling around to gather support for their demand for a collective agreement. Other countries are taking note.

Men working high up in construction and men loading and unloading trucks. Two risk-filled jobs that have claimed lives this year in Sweden. But the initial increase in fatal accidents earlier in 2019 has subsided.

Everyone should return home in the evening. That is the motto for construction workers. But you need more than theoretical knowledge in order to eliminate the risks of accidents. Like bringing routines closer to people's hearts. A visit to a safety training park speeds things up.

Skilled jobs are on the rise both in the Nordic countries and elsewhere in the OECD, while routine jobs disappear. The challenge now is to help more people to develop their skills and to expand social security support to include those without permanent employment.
A Lithuanian construction worker posted to Sweden does have the right to be paid according to the Swedish Byggavtalet – the collective agreement between the Swedish Construction Federation and the Swedish Building Workers' Union – but he or she most often will not be able to keep as much of the money as a locally employed colleague on the same pay. Because the Lithuanian worker must normally pay part of the statutory national insurance contribution in his or her native country.