Theme: Equality also for LGBTI
Newsletter from the Nordic Labour Journal 2/2021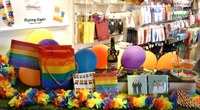 Photo: Björn Lindahl
A society can be unjust in many ways – different pay for different genders or discrimination of those who do not fit into the traditional gender roles. But people within minority groups, like those with disabilities, can also be treated unequally.

The Nordic countries have dealt with the economic crisis caused by the Corona pandemic in similar ways. As a result, unemployment is now falling back to more normal levels. A report from the Danish Technological Institute on commission from the Nordic Council of Ministers argues it is time to adjust the support measures.

Swedish women's income averages 77.7% of that of men's over a lifetime of work. This has not changed since 1995 and represents 3.2 million kronor (€319,000) on average. And government agencies contribute to this development concludes the Commission for gender-equal lifetime earnings in its first report.
Children, young people and seniors are important priority groups for equality ministers' cooperation on LGBTI rights.

Norway's LGBTI community is more exposed than ever and their living conditions should therefore be studied. So say young people in Trondheim's gay milieu, and get support from a gender researcher.
Is it discrimination if an employer chooses one person over another if both have some sort of disability? Yes, says the EU Court of Justice in a new ruling. The ban against discrimination does not apply only in cases where the other party has no disability.

Denmark's government has presented legislation that represents a first step towards realising a controversial election promise to set up reception centres in countries outside the EU. Refugees would stay there while their asylum applications are processed in Denmark. Critics doubt the proposed legislation is realistic.

2020 saw a tenfold increase in the number of citizens from other Nordic countries gaining Norwegian citizenship. From 1 January that year, it became possible to hold dual citizenships in Norway. 1,905 people applied to become Norwegian citizens while keeping their old citizenship.

When she was younger, Kristina Háfoss was known as one of the Faroe Islands' top competition swimmers. In recent years she has been best known for her work for Faroese independence, but now she is also working actively for increased Nordic cooperation.