Theme: Back to normal?
Newsletter from the Nordic Labour Journal 6/2021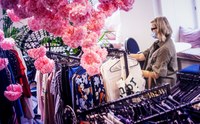 Cata Portin
As the Corona pandemic hit in early 2020, there was a brutal and global stock market crash, unemployment skyrocketed in many countries and air traffic more or less came to a halt.
In early June the Swedish government presented its contribution to a reform of the Employment Act and added 11 billion kronor a year to cover retraining and studies. Then the government crisis happened and the question now is what will become of the difficult labour protection issue.

The safety net for Denmark's poorest – cash benefits – should be completely reformed, argues a government commission. It proposes support for leisure activities for children in poor families and the opportunity for people to do some work without losing access to cash benefits.
How are the Nordic labour markets doing as the Corona pandemic is hopefully coming to an end? Will it be followed by a strong recovery or will companies that have been kept going with state support now face closure?

The pandemic has led to increased polarization between the Nordic countries and trust between Nordic citizens has fallen. This is particularly true for those living far apart. In border regions, where people know each other, it has been less damaged.

To be of service. A task with varying content depending on the business. A common thread these days: How to best get through the pandemic. In Höganäs is happened on a local as well as on an international level.
Nordic countries' cybersecurity skills are improving, but what happens when an attacking country is identified? On 30 June, the Nordic Council will debate proposed joint Nordic sanctions in the case of cyberattacks. The proposal already has support among Norwegian researchers.

The Nordic Volcanological Centre (NordVulk) has secured scholarships for many Nordic geologists to study or do research in Iceland. They have been able to study lava of various ages and, with luck, witness a volcanic eruption. But now NordVulk's funding is no longer rock-solid.

Åland is marking 100 years of autonomy from Finland with year-long celebrations. Not everyone wanted the autonomy solution at first, but it has turned out to be a winning ticket allowing Ålanders to create a prosperous island society. Yet Åland with its shipping and tourism industries has been hard hit by the pandemic.

What do I wear? That could be this autumn's great question for many who will be returning to work after the holidays. Many Finnish employees have been working from home since March 2020.
A current exhibition at the Helsinki Design Museum showcases the Finnish clothing company Nanso and the 100 years-old history of their everyday textiles. The theme is "The Comfort Revolution" – how comfort and wellbeing has steered fashion's evolution towards today's Corona fashion.

Nordic labour ministers met digitally on 2 June to discuss the final report from the Nordic research project on the future of work. It warns of challenges to the Nordic model, but also concludes it is the best tool in the fight against an unequal labour market.