Theme: New measures in the fight for gender equality in the Nordics
Newsletter from the Nordic Labour Journal 2/2018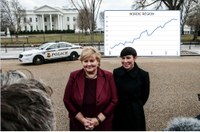 Photo: Thomas Nilsson, VG
#metoo has thrown the spotlight on sexual harassment and indecent behaviour towards women, and marks a new chapter when it comes to discrimination. But loud voices, engagement and structural measures are all needed to achieve gender equality. The Nordic Labour Journal's gender equality barometer shows that the Nordic countries are developing in somewhat different directions, yet action is being taken to target inequalities.

When Norway's Prime Minister Erna Solberg met the world's most powerful man, alongside her was also Norway's first ever female Minister of Foreign Affairs, Ine Eriksen Søreide. Norway still leads NLJ's gender equality barometer by a good margin, while Finland has fewer women in positions of power than any Nordic country has had for 19 years.
The #metoo movement's many appalling stories show that parallel to rules and regulations there has been culture of silence which has made sexual assaults and harassment possible. This is a challenge for trade unions on all levels, concluded Nordic trade union representatives at a meeting in Stockholm in February.

Fewer Finnish children go to nursery than elsewhere in the Nordic region. One reason is the home care support, paid to parents who chose to stay at home beyond the normal parental leave period. The organisation Mothers in Business wants to scrap the benefit altogether, calling it a trap for women.

Iceland is the first country in the world to make it legally binding for all companies with more than 25 employees to have an equal pay standard. The law says there should be equal pay for equal work for women and men in the same workplace. This has gained international attention.

Region Gotland has decided to set aside extra money for this year's wage review to fill the pay gap and to help professions facing labour shortages. The hope is that the right money can get existing workers to stay and tempt new ones to come and work on the island.

A considerable proportion of girls choose not to study sciences and technology. The Norwegian University of Science and Technology NTNU in Trondheim has chosen to hold several fairs to recruit girls. The rest of the Nordics will follow, the "girl agents" say.
Danish trade unions and political parties have proposed to earmark a separate pool of money to increase pay in traditional female occupations. One expert calls it a necessary first step, but warns more is needed to get rid of gender divisions in the labour market altogether.
Is the EU about to take over member states' prerogative to regulate employment and working conditions? Yes, this is what may happen if the Commission's proposal for a directive 'for more transparent and predictable working conditions in the European Union' is passed, warn both trade unions and employers in Sweden.