Theme: Diversity in the labour market – focus on newly arrived women
Newsletter from the Nordic Labour Journal 3/2018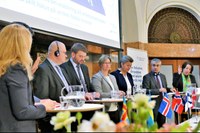 Photo: Björn Lindahl
Not everything is perfect, but the Nordics are doing some good things, getting down to business, highlighting problems, considering the measures, wanting to learn from others without erasing political divides. This is also the case when discussing labour market inclusion, #metoo and work-related crime. Broad cooperation aims to make sure things point in the right direction.

It is called the grey economy, social dumping, work-related crime – yet despite the many names the problems are common and concern all of the Nordic region and Europe. This is about criminal networks, pure exploitation of labour, businesses operating on the edge of the law and unequal competition. All this led to a joint resolution at the ministers' meeting in Stockholm on 13 April.
682,948 non-western immigrants arrived in the Nordic region between 2010 and 2015. The aim is to integrate as many of them as possible into the labour market. The challenge is greatest for female refugees, who often face discrimination in their native countries and again risk being discriminated against in their new home country.

There is a need for more flexible measures to integrate newly arrived refugee women in the Nordic region, according to the OECD. Research shows that after years of fleeing, birth rates increase dramatically. When women feel safe, they have children – but that also makes it difficult for them to benefit from labour market introduction programmes.

To succeed in getting more newly arrived women into work, the Nordic countries need more employment measures, an increased focus on childcare and documented results from measures, according to a new study.
Project Mirjam targets women with low levels of education who have been granted asylum or residency in Sweden. It is considerably harder for them to find work compared to men in a similar situation, but guidance focused on work and gender equality produces results.

#metoo has spread like wildfire across the Nordic region. In Sweden, 65 different trades gathered their stories under different banners. First were the artists with hashtags like #tystnadtagning (silence, filming) and #ViSjungerUt (we're singing out). Anna Söderbäck also shared her experiences. Now she is calling for a new type of leadership.

Finland's activation model for unemployed people was meant to do just that – activate the unemployed. Yet results remain elusive. All unemployed people are critical to the model, say those the NLJ has spoken to.
The European Commission is moving at pace to make the European Pillar of Social Rights a reality. In March it presented what it called a 'Social Fairness Package', where it proposed that the EU should establish a European labour authority to make sure EU rules on issues including the posting of workers and the coordination of social security schemes are being followed.

Icelandic companies are hard at work preparing to meet demands introduced in equal pay legislation presented at the start of the year. Several of them want to adapt the equal pay standard before the deadline. But the amount of work is greater than expected, and the first ones out must start from scratch.