The Fiskars ironworks was in decline but became a culture and tourism village. Here, the idea of labour has really changed – and it has paid off.
Fiskars is Finland's best-known brand, famous for design, scissors and now also porcelain. Fiskars is linked to good craftsmanship, design and functionality.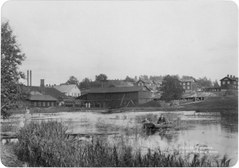 But beyond the brand, Fiskars is also the name of one of Finland's oldest ironworks villages. There has been manufacturing in this small village 90 kilometres west of Helsinki since 1649.
By the mid-1980s, the large Fiskars company grew too big for its home village and could not keep up with the times. The production of ploughs and other products that were no longer needed stopped. The scissors factory moved to the neighbouring town of Billnäs. The village started falling apart.
A tired historical backdrop got new lease of life
In 1983, some factory buildings were sold to the municipality – including some housing quarters. The municipality started art exhibitions and some years later the Fiskars company developed a new interest in developing arts and design livelihoods inside old factory buildings.  
After 20 years of new development, the old village became increasingly popular as new craftspeople and tourism took over the place. Yet the changes have not been problem-free.
Rauno Sairinen owns one of the many old houses. He wanted to write a history book about the house but ended up doing a lot more than that.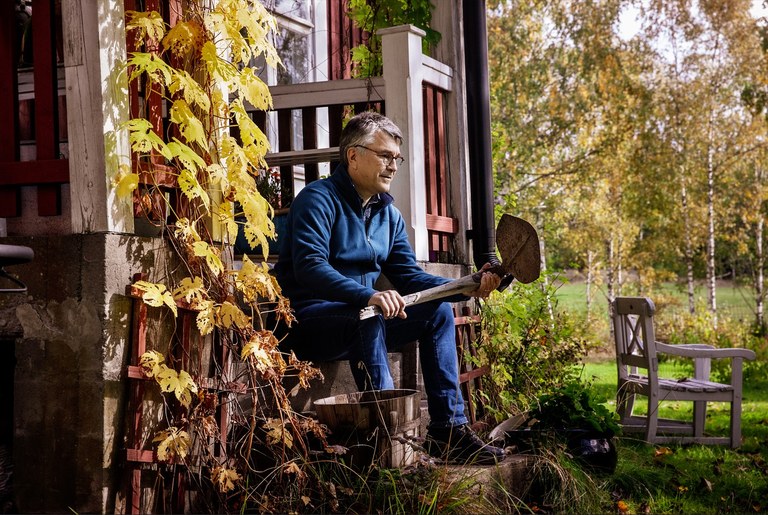 Rauno Sairinen on the steps of the house he bought in Fiskars. He is holding a spade that Fiskars made many years ago.
Sairinen wrote the book "Fiskars är alltid Fiskars" ("Fiskars Will Always Be Fiskars") – about working life in a manufacturing town. It has already been published in Finnish, but will now be translated into Swedish, which was long the dominant language. 
Fiskars has a varied history, often as a trailblazer. Ups and downs are part of that history, accelerated by global events and demand. It is a town where people have always worked hard, with many conflicts between workers and the gentry.
It is also a town rich in industrial history, design development and advanced craftsmanship, which is still alive today. Jobs have gone from father to son for many generations. New craftspeople are now moving there to keep traditions alive. A lot has happened since the old ironworks closed and production moved elsewhere. Instead of iron and copper manufacturing, it is now a centre for art and tourism.
Six families moved to where 48 had lived
Rauno Sairinen first visited Fiskars in the summer of 1994. He fell in love with the place and gathered six families who bought three old timber houses in Kulla. They had no special knowledge of renovating houses but took part where they felt they could contribute something and they knew who else to ask for help. 
Houses had been built for people who started work at the new roller mill in Fiskars in 1859. Later, widows and pensioners also moved in. 
At that time, there were 48 flats in those three houses, with one family in each room. Today there are two to three families living in each house. 
Rauno Sairinen almost sounds a bit surprised over how well things have gone in the houses that had been empty for 15 years. His own flat has many original features in floors and ceilings. There is hand-painted wallpaper in several rooms and wood stoves that come from similar houses.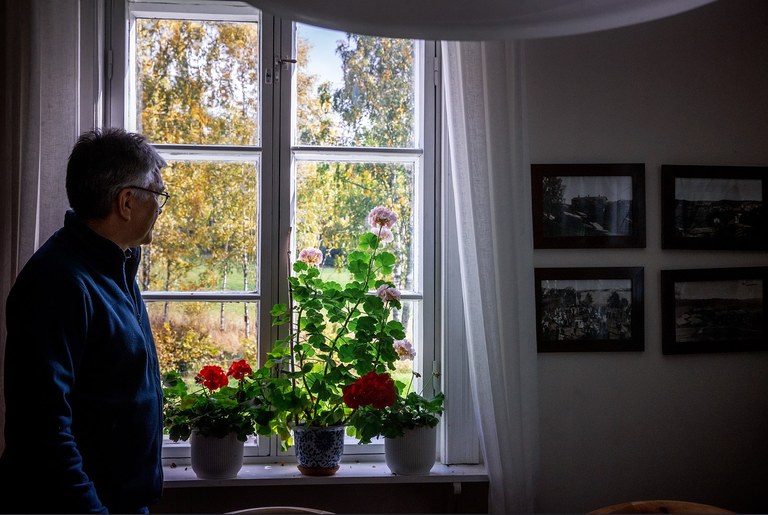 Rauno Sairinen's house retains many original features.
The flats are roomy with space for the home offices which became necessary during the pandemic.
An urban village with service was tempting
Rauno Sairinen used to work in Helsinki, an hour's drive from Fiskars. Now, his commute is considerably longer. For 15 years now, he has been a professor of environmental policy at the University of Eastern Finland. He works in the city of Joensuu a couple of days every other week.
Professor Rauno Sairinen shows us around Fiskars where he has been living since 1998. He clearly enjoys and appreciates Fiskars and its surroundings. 
Yet he was not yet fully surfing the green wave. He did not want to move to the countryside, but to a community with good services. He fell in love with Fiskars, a society undergoing a lot of change.  
At first, many young artists and craftspeople started arriving. Later came researchers, journalists and others with alternative lifestyles. Rauno Sairinen talks about an urban village where people of all backgrounds fit in.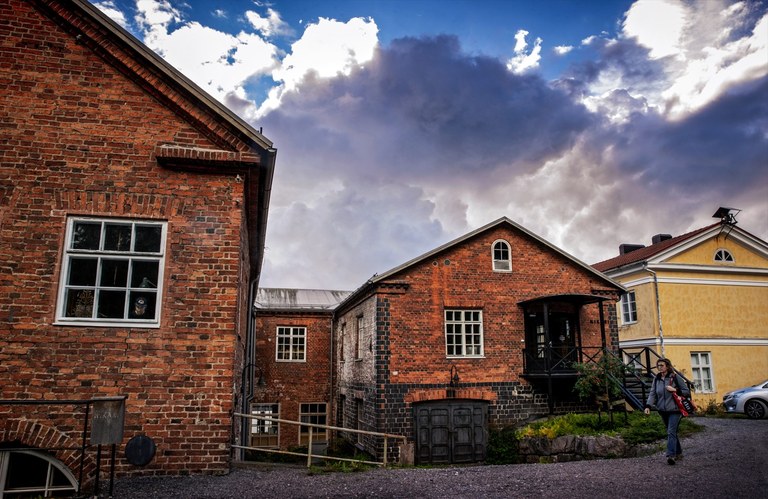 The building known as Gamla Mekaniska Verkstaden now houses a furniture maker.
Cultural crash
When Rauno Sairinen moved to Fiskars, many of the original workers from the Fiskars factory, now retired, still lived there.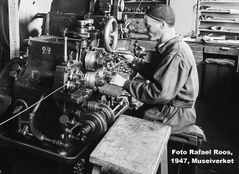 "It wasn't easy to get to know them. Two different worlds collided. They wondered what kind of people we were, moving there with our own culture and other habits than what they were used to in the factory town."
They mostly disagreed on what constituted work, says Rauno Sairinen. They could not quite understand that culture and tourism was real work.  
Later, Fiskars' progress changed the old Fiskars citizens' views. They now seem convinced that real work of real value is taking place. There are new types of activities and businesses, but they are appreciated because they bring income. 
None of the original industry remains. Fiskars' factories are ten kilometres away in Billnäs. But the old manufacturing village of Fiskars has some production, furniture makers and craftspeople in the jewellery business in addition to tourism. 
Change paid off despite opposition
Rauno Sairinen became active in local politics and was a city councillor for the Green Party for 12 years.  
"The first period I thought that environmental issues would become my thing."
But Rauno Sairinen ended up more as a new business politician during the first years. He tried to convince the other politicians that all business was valuable and welcome.
The years have brought progress. Fiskars Group now proudly showcase its roots and has a high-class shop where visitors can buy all their designer products. The village attracts over 200 000 tourists per year.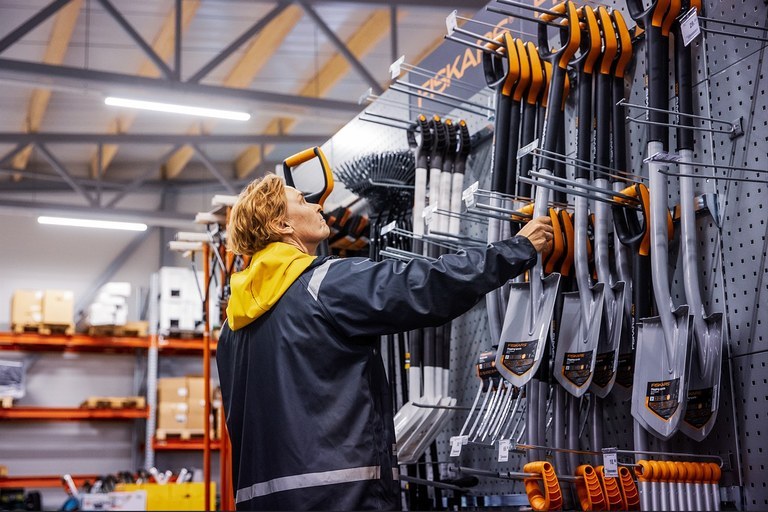 The orange colour that has made Fiskars so well-known came about as a coincidence with the help of an independent-minded machinist during prototype development. Heidi Mutka demonstrates some of the tool selections. 
The tourism season has been extended in Fiskars, and cultural life has become richer. There are people living permanently here. So there is more to the place than tourism. But summers are when most things happen.
After two years of Corona, big audience events have again started up. The Slow Food Festival could be held again in early autumn. In November, the traditional Christmas markets will be held in Fiskars Village.
The smell of fresh bread sells
The smell of freshly-baked bread spreads inside a small café in the old knife factory. It is an efficient sales pitch. 
Kirsi Forsberg-Walls is behind both the bread and a selection of cheeses. She also makes butter from milk from the cows on her little farm. In the summer, she works every day and the rest of the year, she keeps the store open at least every Saturday.
The food producers started their business three years ago in Fiskars and that is also when Kirsi Forsberg-Walls opened her place here. In the summer, there are crowds of tourists and long days.
"I make a profit somehow. I don't pay myself much but I manage and there are customers all year round. Christmas food secures my income in the winter," explains Kirsi Forsberg-Walls.
The civil war left wounds
Anyone writing a book about working life in the manufacturing town cannot avoid the Finnish civil war, which has also been called the freedom war, the citizens' war or the revolution. 
It was fought in the winter and spring of 1918 and resulted in victory for the "whites", after some 38 000 people had been killed. Two-thirds of them supported and fought for the red Socialists. Most were executed or died in prison camps after the war.
The civil war has often been called the worst trauma in Finnish history and it also hit Fiskars hard. Around a hundred workers ended up in prison camps after the war, and tens of them died there. But some were rescued when the factory management appealed for the release of the most important workers. Many of the management had been active fighting for the whites. 
"Afterwards people just carried on working side-by-side," says Rauno Sairinen, somewhat amazed.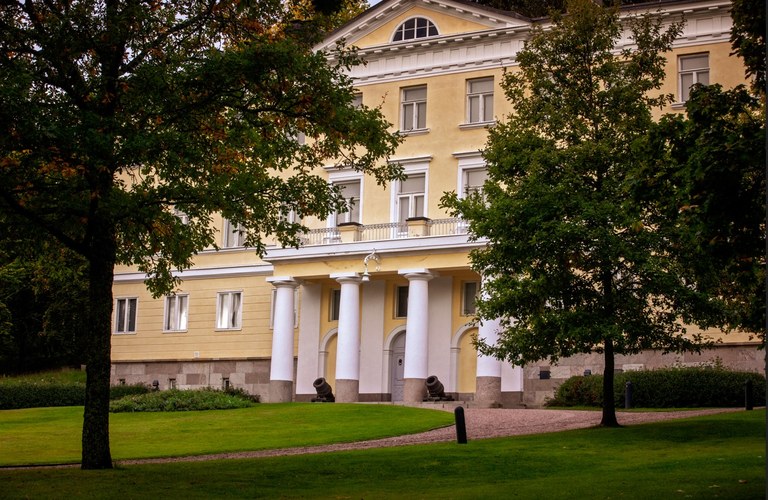 The grand villa is known as "Stenhuset". This is where the factory boss lived. The house is still closed to the public, and is being used by Fiskars Group for representation.
The proprietors in Fiskars and Billnäs had a reputation for being conservative and opposing workers' rights and trade union membership. The country's oldest political organisation, the Social Democrats, were established in the area in 1899. But employers in Fiskars and Billnäs banned their workers from joining both the Social Democrats and unions. Outside agitators were viewed as trying to wreck the consensus that had existed in the factories.
Work was heavy and hot. Many workers died young. There were many widows. But there are also stories of radical factory owners who voluntarily introduced eight-hour-days and constructed housing, hospitals, schools and libraries for their workers.
So did Fiskars think about the workers, or that progress would improve takings?
Sairinen mentions some workers' protection measures that were quickly introduced. As soon as machines that sucked away fine metal dust from the grinding machines were invented, they were put to use in Fiskars. So business management sometimes demonstrated what was dangerous and where workers needed protection, says Sairinen. 
Business management clearly demonstrated what was dangerous and where workers needed protection, says Sairinen. 
He has not gone through the company's financial records, so he cannot say how profitable Fiskars factory has been through the centuries. But he knows that Fiskars has been exposed to international market movements and demand on the domestic and international markets. Fiskars has often been saved by its forestry properties, which the company still owns.  
Environmental policy
In his book, Sairinen does not touch that much his own area of expertise, environmental policy. He has not found many historical facts about green agendas or environmental protection in Fiskars.
The river that runs through the town has played a central part in the town's history and life. People have been swimming here and washing clothes, while all waste from agriculture, cow sheds and factories also ended up in the river.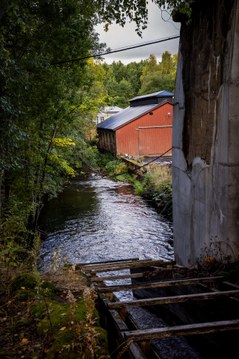 "It has certainly been very polluted at times. There are sediments on the river bed that are probably best left undisturbed," says Rauno Sairinen. 
But Fiskars is a beautiful valley with its own microclimate and own flora. It was a tourist destination as far back as the 1800s and had many visitors. Descriptions from back then paint a scenic picture, even though it was Finland's most industrialised town. So there could not have been too much factory smoke or foul-smelling waste in the river. But people clearly did not share today's view of environmental protection, points out Rauno Sairinen.
In 2005, Fiskars was nominated for the Nordic Council Environment Prize. The winner, in the end, was Norwegian biologist Ann-Cecile Norderhaug. 
"Despite growth and internationalisation, Finland's oldest industry company Fiskars has never forgotten its roots" the nomination read. The brave and targeted drive using millions of euro on making the area appealing in order to attract new, creative citizens worked, it said. 
10 % of the land areas are also protected nature reserves. The nomination also pointed out that short-term economic considerations had not prevented Fiskars from successfully highlighting, maintaining, using and administering valuable cultural landscapes in the Nordic region, so that natural and cultural values could be maintained and developed. 
The hardware store
Helena Rautakorpi works in the hardware store Karis Järn as a horticulturist and is responsible for the Fiskars products that line shelves and walls in the new store. 
There are products linked to seasons. The time for autumn garden work is nearly over, so gardening tools are being put away. All kinds of spades and shovels come out. The rush to buy tools for snow clearance is just around the corner. 
Fiskars tools have a good reputation for being durable. An axe is often passed down through the generations.
During the pandemic, there was a clear increase in sales of Fiskars products. Finns had more time to spend in their cabins and perhaps wanted to look after it better while they had all that extra time. Many spent more of their days there, working from home and taking an interest in gardening tools, irrigation products, knives and scissors. 
It is, of course, possible to buy Fiskars tools in the little hardware store too.
Helena Rautakorpi believes the functional design combined with the aesthetically pleasing look is what makes Fiskars products so popular among amateur farmers. 
"There is also a hometown pride. Many here have been working at the Fiskars factory or have older relatives who did. People buy Fiskars products even though they are no longer made in their hometown. It seems people have always supported the Fiskars factory and its products. There are other Finnish manufacturers making similar products – and of course foreign ones – but in Raseborg, where the factory is, people buy from their own manufacturer," says Helena Rautakorpi.  
The jeweller
Timo Mustajärvi is a master jeweller and designer. He came to Fiskars to meet colleagues who had moved there. There was room for more jewellers, it turned out. This was in the summer of 2002, so he has now been here for 20 years.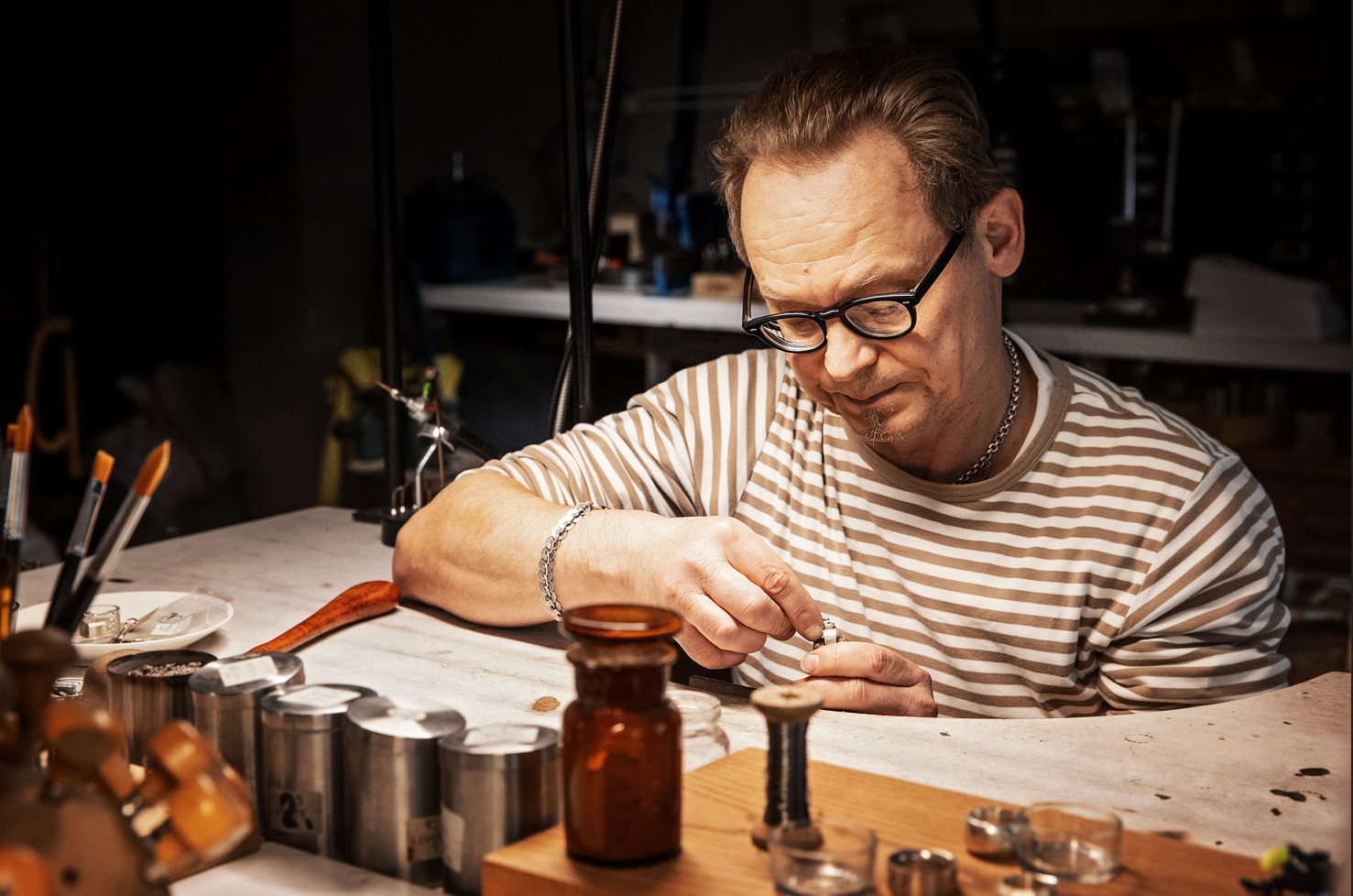 Timo Mustajärvi.
He has a small atelier and shop in Suomenllina, an even more popular tourist town outside of Helsinki, with Unesco status.
"In Suomenllina there are more customers, but also more uninterested picnic tourists. In Fiskars you get fans of art and design who look for experiences and who are also interested in buying things," explains Timo Mustajärvi.  
In Fiskars, he could rent a good atelier and home. He swapped a one-room apartment in Helsinki for four rooms and a kitchen and some apple trees in Fiskars. He did at least not lose anything by moving, he says. 
But does it pay? When you have studied for 11 years you live off small takings, also as a business person, explains Timo Mustajärvi.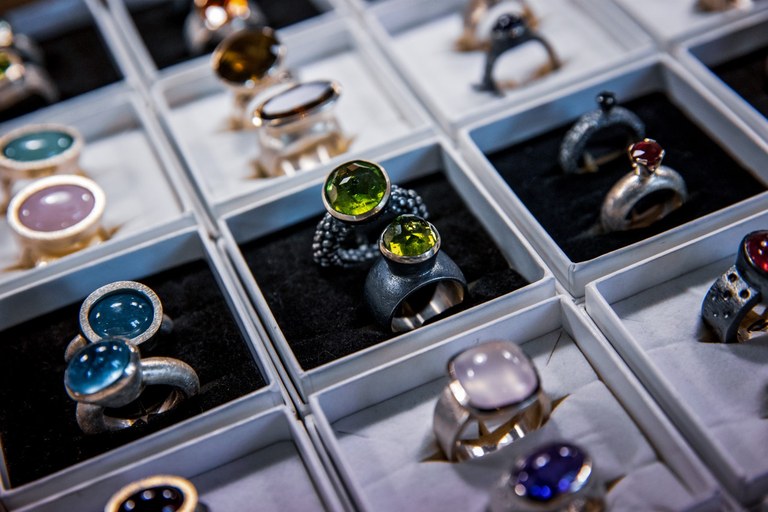 A selection of  Timo Mustajärvi's rings.
"But here in Fiskars you also get a salary and more spare time, which you can buy if you risk employing someone else. And we are close to nature."
But work is never-ending for an entrepreneur, with customers still turning up around 10 pm complaining that the shop is closed. Mustajärvi says he enjoys his customers and his artist colleagues. He has been motivated to develop his business and his product range.
"Here you develop a belief in your own products. You have the freedom to work outside the traditional norms. This is definitely not a bad place to be for an entrepreneur. Fiskars gives you self-confidence, but quality must remain high because everyone here produces high-quality products. World-class designer products have been created here. Today's craftspeople want to carry on in that tradition." 
Fiskars has been a strong brand with manufacturing in Finland, but gets criticism too. The world is open, this is what happens to a global company. 
Timo Mustajärvi is a fan and user of Fiskars gardening products. But he says he has had to return several that have not been good enough. Customers are sometimes too polite to point out inadequate materials and poor ergonomics, says Mustajärvi.
"But if a company doesn't know about faulty products, it is useful if customers complain. I for one would appreciate that," says Timo Mustajärvi.