On March the 8th, the book Secrets of the Sprakkar was published in the US after having first been released in Iceland in 2020. It deals with gender equality in Iceland, considered to be among the best in the world. Sprakkar is an ancient Icelandic word for "outstanding women". A few of these outstanding women are interviewed in the book.
Secrets of the Sprakkar examines "the deep-seated cultural sense of fairness, the influence of current and historical role models, and, crucially, the areas where Iceland still has room for improvement," as the introduction says.
What makes this book special, apart from the subject itself, is the author Eliza Reid. Firstly, she is not a native Icelander. She was born in Canada but has lived in Iceland for almost two decades. And she has been Iceland's First Lady since her husband, Gudni Th. Johannesson was elected President in 2016.
Found love in Oxford
Before we find out where this interest in equality in Iceland comes from, let us look at her background. Reid was born in Ottawa and grew up on a farm in the Ottawa Valley. She holds a BA degree in international relations from the University of Toronto and a master's degree in modern history from Oxford University. 
This is also where she met her future husband Gudni Th. Johannesson, who was a PhD history student there. They fell in love and agreed to move to Iceland in 2003. Jóhannesson already had a child and wanted to be close to her. There Eliza worked as a writer and an editor until her husband was elected President. They have four children together.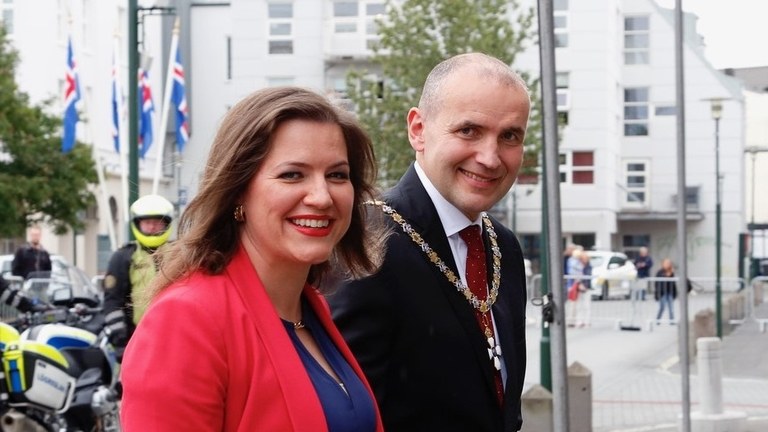 Eliza Reid accompanying her husband who is just about to be sworn in as Iceland's President after winning the 2016 election.
A First Lady's challenges
In the book, she writes that when she arrived in Iceland, she saw a nation that has what she calls a "small nation complex", which indicates the insecurity of a small nation. But she also notes positive things, like when the chair of a board nurses a child in a conference room without anyone batting an eye, and how strollers are left on the front lawn with a child sleeping in it because it is safe and people know and trust each other.  
When she took on the role of the First Lady she faced a problem. She was not sure what she was supposed or allowed to do, but on the other hand, she is the type of woman who is used to speaking up. 
So she decided to use this opportunity to do some good and make a difference. And it is safe to say that no First Lady in Iceland has been as active in social discussions as Reid has been. She has sought out opportunities to give lectures, and gender equality has largely been the main issue. 
"If there is anywhere from which to challenge these outdated gendered-based assumptions, Iceland is it," she writes.
With a foreign perspective
And there are a few facts that back this up. Iceland was the first nation to elect a woman as head of state in a general election when Vigdis Finnbogadottir was elected President in 1980. Nearly 48% of parliamentarians are women, the highest percentage in the world among countries without quotas. And Iceland is number one on the World Economic Forum's list of countries that are closest to achieving gender equality.
Reid claims that as a "guest" in this country she has a "guest's eye" which allows her sometimes to see things more clearly. In an interview with the New York Times, she says that the reasons are both historic and specific. 
"There's Iceland's brutal weather, which demands an all-hands-on-deck practicality. There's its small size […] which allows for swift adoption of new policies. And there are its popular sagas, featuring ancient sprakkar like Long-Legs Hallgerdur, who back in the 10th century took deadly revenge on her husband for slapping her." 
She also points out how both parents get 12 months of paid parental leave in total – five for the mother, five for the father and two split by choice. That creates a sense of common responsibility for children.
The small population also plays a part in gender equality. As one of the interviewees in the book says: "Most people in Iceland will meet a trans person." Which means they will not be unknown to anyone and are therefore more likely to be given the same rights as other genders.
Not afraid to speak up
But even though Iceland is in a good position compared to many other countries, there is still room for improvement. And Reid is not shy to point things out even though they are connected to her directly. 
In October, the Morgunbladid newspaper published a picture of the Danish Crown Prince Frederik shaking hands with her, while President Jóhannesson watched on in the background. The caption only named the men in the picture and not Reid herself. It also named the Danish Foreign Minister who was not in the picture at all. 
Reid took this up on her Facebook page (not something any other First Lady would do) and wrote: 
"Summary of this photo caption on the cover of the newspaper today: One man with a name came to dinner at another man with a name's house. With the visitor was a third man with a name [not pictured]. That is all. #dowomenexist." 
Still a way to go
Her point was that there still is a tendency in the media to downgrade the role of women. And that is not all that has to improve according to Reid. Women still do more household work, they still make less money than men do for similar work (although that difference has diminished) and they hold far fewer executive roles in large Icelandic companies.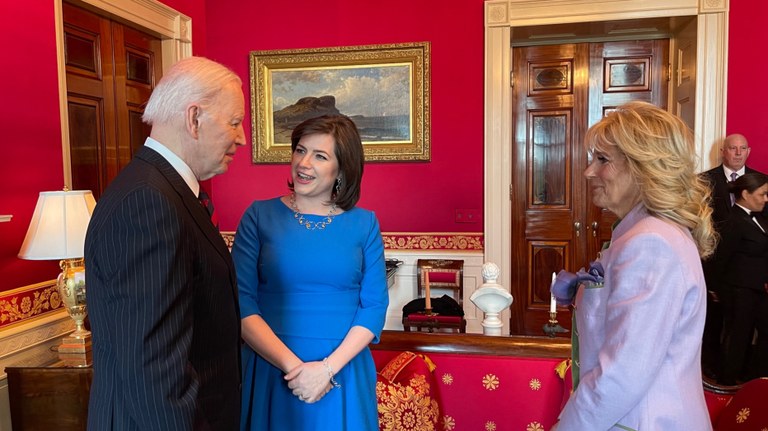 Eliza Reid meets President Biden and First Lady Jill Biden.
But in the book, she talks to a lot of women that are doing jobs that only men used to do not so many years ago – like sea captains, sheep shearers, a female rap music band (called Daughters of Reykjavik) and a professional football player. 
She feels that the reception she is getting for the book says a bit about how far Iceland has come. In an interview with Grapevine.is she said: 
"One of the things that I think is great about Iceland is I'm writing a book about gender equality, and it's not a super-sensitive issue here. I couldn't avoid talking to any political people, but I tried to be diverse in terms of their backgrounds and not be specific about any parties. I don't have a grand national vision for the country. I just hope that I can do my part to make our society a better place for everyone."
But that could easily go beyond Iceland. Earlier this month she took part in many equality gatherings in the United States and Canada. On the Equal Pay Day, March 15th, she took part in a big gathering in Washington where she met president Joe Biden and First Lady Jill Biden. In a reception in the meeting, President Biden called Reid up on the stage and called her "a real champion in gender equality". Not a bad recommendation from the most powerful man in the world.