In what is only the second time in 100 years, a Danish parliamentarian is being impeached.
A historic impeachment trial will determine whether Danish parliamentarian Inger Støjberg made herself guilty of misuse of office while serving as the Minister of Immigration and Integration in 2016. Her ministry gave written instructions to separate married asylum seeker couples and house them apart if one of them were under 18 years of age.
A parliamentary majority wants to launch an impeachment trial in the wake of the conclusion from an investigative committee, saying there was "no reasonable doubt" that Inger Støjberg, while being a minister, was warned about the illegality of the instruction she gave – ostensibly for preventing what she calls the practice of "child brides". 
The illegal instruction meant that at least 23 asylum-seeking married couples were systematically separated at asylum centres and housed separately.
Inger Støjberg denies giving an illegal order to separate asylum seeker couples. On 29 December 2020, she was asked to step down as deputy leader of the liberal opposition Venstre party. Venstre as a political party has chosen to back the impeachment trial which will now follow, yet some in its parliamentary group did not.
Stubborn Støjberg
In her time as a government minister and deputy party leader, Inger Støjberg has been spearheading Denmark's strict immigration policy, accepting as few refugees and immigrants as possible while introducing tough demands for adopting Danish values, language and norms.    
The impending impeachment has not immediately made her dampen her rhetoric. In a Facebook comment, she wrote this about the commission's conclusions:
"I have done everything possible within the law to prevent the ugly phenomenon of child brides. My political wish was, and remains, that no child bride should live with their older husbands in a Danish asylum centre. But I have of course not given any order to break the law."
One of the Venstre politicians who voted against the impeachment of Inger Støjberg was her former boss, Lars Løkke Rasmussen, who was Prime Minister when she was Minister of Immigration and Integration. He recently left the party and now sits as an independent in parliament. He writes this about the impeachment on his website: 
"Inger Støjberg has shown a stubbornness which I mistakenly tolerated far too long," and "not even Inger Støjberg can deny she has been economical with the truth when explaining herself to parliament." Yet he believes an impeachment trial is too harsh a sanction which is not good for cohesion in Danish society. He predicts the trial will turn Inger Støjberg into "a martyr."
Similarities with the USA
The majority to impeach Støjberg came the day after the House of Representatives in the USA voted to impeach outgoing President Donald Trump for inciting a riot. Their actions are totally different, but the two politicians' road to impeachment share several similarities, point out Danish politicians and political pundits.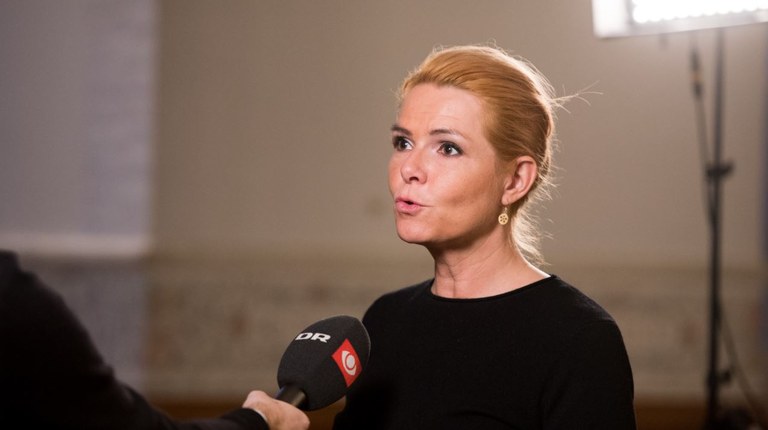 Inger Støjberg uses Facebook and other social media frequently to post statements about immigration and other issues.
Like Donald Trump, Inger Støjberg ignored civil servants' advice. Both have a base who have backed them uncritically in public. And social media have played a central role for both. The case against Støjberg began with a Facebook post that she wrote in 2016, where she drew attention to the phenomenon of young women marrying men older than themselves. In her post, she stated that she would not accept this and followed up with a press release and finally the illegal instruction.
No to extremism
The leader of the Danish Social Liberal Party, Sofie Carsten Nielsen, recently said Inger Støjberg is an extremist just like Donald Trump. Nielsen's party supports the Social Democratic government in parliament. Her statement was in response to Lars Løkke Rasmussen's refusal to support impeachment.
"First the ombudsman, then the instrukskommissionen [the Directive Commission] and now parliament's impartial lawyers have concluded that there is reason to pursue the Støjberg case. Yet Denmark's former Prime Minister rides rough-shod over the rule of law because he is afraid an impeachment trial will turn Støjberg into a political martyr (!!!) We have seen from the USA where this kind of thing leads. There will always be extremists like Trump and Støjberg. It is not them I am afraid of. No, those I fear are henchmen like Løkke. First, he turned a blind eye on Støjberg's actions while she was a minister in his government. Now he does it again. I am happy there is a large majority without Løkke, the New Right and the Danish People's Party who is now impeaching Støjberg," wrote Sofie Carsten Nielsen.
This is only the sixth impeachment trial in Denmark since the constitution was written in 1849. An impeachment trial can be sought if there is suspicion of misuse of office and is one of the strictest sanctions a minister can face. A sentence can include fines or prison. A prison sentence is not considered likely, however, if Inger Støjberg is found guilty. Parliament is expected to motion for a resolution on impeachment in early February.
Report criticising Denmark
Denmark is a hardliner among the Nordics when it comes to immigration politics. This predates Inger Støjberg by many years. A major Nordic report indicates that the Danish approach has not benefited the education, work and health of children and young people who arrived in Denmark as refugees. This group do considerably worse in Denmark than in the other Nordic countries, according to nearly all parameters. 
The report, 'Coming of Age in Exile' (CAGE), gathers data from a five-year-long and recently finished joint Nordic research project, financed by NordForsk under the auspices of the Nordic Council of Ministers. Researchers from the Nordic countries have used register data, among other things, to find out how refugee children arriving in Denmark, Norway, Sweden and Finland between 1986 and 2005 have managed later in life.    
The researchers followed these children from 2005 until 2015 to map how they managed in the important years of their youth when they needed to get an education, find work and stay healthy. The researchers also looked at how these children and young people were influenced by policies and other issues in the Nordic countries.
A strict approach out of kilter in the Nordic region
Between 2005 and 2015, Denmark had the strictest integration policy of all the Nordic countries, according to the MIPEX index, which the EU uses to compare policies between countries. Denmark was the strictest of the Nordics on family reunion and economic support, for instance.
In that same decade, refugee children in Denmark did worse according to nearly all of the survey's indicators compared to non-refugee children in Denmark, as well as refugees of a similar age in Finland, Norway and Sweden.
31% of the refugees in the survey who had come to Denmark were neither in work placements, jobs or education when they turned 30. In Norway, the figure is around 18%, in Sweden around 24%.  
Even though Denmark is at the bottom among the Nordics, the integration of refugee children in Denmark has improved in later years, according to the report. In 1997, nearly one in four refugees who arrived in Denmark as a child had no job or education by the time they were 20 and 22 years of age. In 2014 that figure had fallen to one in ten. This is largely the same level as for Danish-born children.
The report also shows that the manner in which refugee children are received in the Nordic countries matters a lot for integration. 
Immigration to the Nordic countries has risen for the past 50 years, and since the 1970s a major part of non-Nordic immigrants have been refugees and their families. Young children under 18 have made up a relatively large part of this group.
Young people: Stop the negative language
Recently, two young men chose to come forward and admit that it had been them, six years ago, who disturbed a lady sitting in front of them in a cinema, and that they apologised for what they called silly boys' behaviour. The lady in front was Inger Støjberg, the leader of the Venstre party. After the episode she wrote and shared a Facebook post about it, which would herald a tougher tone in the integration debate:
"I just got home from the cinema, where a group of immigrant boys aged around 14 to 15 sat behind me and were disruptive from beginning to end. They kicked the chair, chatted, commented and threw sweets. When do parents take action, and when do you boys grow up? I live in Denmark, and I simply cannot understand why you cannot try to behave properly. Nothing will come of you if you carry on like this."
The post got a lot of media attention, and a short time after, Inger Støjberg was appointed Minister for Integration. Six years later, all the boys from the cinema have gone through youth training and two of them –Blerim and Dhia – have now come out to challenge Inger Støjberg's description of them and other young men as "immigrant boys" with no future:
"I was born here, grew up here, attended school, went to college and am now at university. I have worked in Danish workplaces. I do not consider myself to be a foreigner. I see myself as a Dane with a different ethnic background," Blerim told the Danish Broadcasting Corporation. 
Dhia added:
"We come forward now so that people can see that the boys she described are actually decent and sensible boys and that we should not all be generalised and lumped together."