Private operators outside of the public labour inspection system in both Norway and Sweden are gathering information on cowboy operators within the construction industry. The Nordic Labour Journal joined Vidar Sagmyr from the construction industry's disruption patrol in Trondheim on an ordinary assignment. This time, he received no death threats.
Vidar Sagmyr is the project leader for the construction industry's disruption patrol –or uropatrulje – in Trondheim. Its aim is to create a serious construction industry that can compete on a level playing field. The disruption patrol share offices with several trade unions, and is situated not far from police and tax authorities. Although different Norwegian authorities now work closer together to fight work-related crime, there has been a lack of resources to monitor illegal activities on construction sites. 
As a result, several employer's organisations and trade unions have set up the disruption patrol. It has a steering committee with seven people – three representing employers and four representing employees. But when Vidar Sagmyr is out on a mission, he usually operates alone. 
He has received several tips via social media and through other channels about a foreign construction firm – again. It is quite possible that the firm is guilty of social dumping, and of withholding taxes and fees. Equally probable is dangerous working conditions in breach of health and safety. 
Hunting for documentation
"I carry a camera and often use my mobile phone to take pictures. I will document that the company concerned has been present at the construction site I am trying to find. I already have more than enough information to be fairly sure that the company is running illegal operations," says Vidar Sagmyr as he packs his equipment. 
He is 49, and enjoys ordinary wildlife hunting in his spare time. He is married with grown-up children, and lives in a detached house. He drives his own, private car. Sagmyr is a trained decorator and has seen questionable behaviour from the inside of the trade. He tells us he has been carrying an assault alarm after receiving a death threat.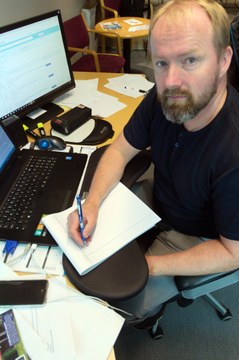 "That's when I was out on a control together with the safety representativefrom the Norwegian Labour Inspection Authority. The cowboy didn't like getting caught. He blamed me, even though the tip that led to the control didn't come from me," says Sagmyr somewhat agitated.
He gathers whatever can become evidence. It was the police that gave Sagmyr the assault alarm, and investigated the threats as a criminal case. 
Could this become dangerous again?
"No, we will be sitting in the car at some distance. Even though I have received one death threat, there will probably not be any direct contact this time."
We follow Sagmyr to the parking garage and drive a good distance out from the city centre. We park up and wait a few minutes near where the suspected construction firm is supposed to be working. 
"We will wait here and see whether the company's cars arrive," explains Sagmyr.
The disruption patrol has existed for three years. He works full time and has reported nearly 1000 law and regulation breaches. Many have been caught for all kinds of cheating. 
Excited
Sagmyr suddenly falls silent. His gaze is locked in the car's rearview mirror. Two black cars with identical logos drive past.
"There! The cars from the company I have been tipped off about. Now we need to make sure we don't loose them. I also must make sure I don't get too close," he says decisively and accelerates out onto the road after a few seconds. 
The NLJ's reporter, who previously has only seen this kind of things in the movies, feels his pulse increasing. We wonder how Sagmyr is feeling in his driver's seat.
"I feel the excitement. My heart beats faster. I do not by any means know this area very well," he says.
We watch as the cars turn down a side road. The distance is suddenly very short. Sagmyr's face tells us he does not like getting this close. 
"Heh-heh, I'll keep going straight instead of taking the side road here. This got too close. They must not get suspicious," he says.
A quiet action hero
Vidar Sagmyr stops and turns around. We stay very quietly behind a hedge. Then he slowly drives towards the side road where the suspected crooks disappeared.
Does the police or others know you are following cowboy construction firms which perhaps have been punished before?
"It depends a bit on how I tell them," he answers somewhat opaquely.
"Sometimes the disruption patrolsteering group knows. Other times I have let the police know," he says, a little bit like a quiet action hero.
A bit further down the side roads it turns out it is a dead end. We are suddenly in a rush, as we now only have one way out. Sagmyr rolls down his window and gets out his phone, rapidly taking pictures of materials and the company cars with the logos on the construction site. The distance is perhaps 30 metres, but the workers are inside a building. 
Sagmyr turns the car around again. It feels perfectly OK to leave after less than a minute of "close contact".
What is left to do now is to turn over the observations and pictures to the authorities. The Labour Inspection Authority, NAV, the Police and the Tax Authorities will receive and process the qualified tips.
According to government statistics, work-related crime is on the rise. Seven centres against work-related crime have been set up, where the Labour Inspection Authority, NAV, the Police and the Tax Authorities share offices.
This close cooperation has brought results, according to the government. 3400 companies and construction sites were controlled in 2017. 518 companies were stopped, compared to 352 in 2016. 232 people were expelled from the workplaces, compared to 89 the previous year. 172 fines were issued in 2017, compared to 92 in 2016. 
Earlier this year, the Minister of Labour Anniken Hauglie wrote an opinion piece where she did not hold back:
"I have no faith in handling the criminal elements with kid gloves. These are cynical and calculating people who do not stop at anything. So the government is clear that the criminals should be harassed, hunted and shown the door."
Vidar Sagmyr believes the disruption patrol in Trondheim has strengthened its position.
"We have been taken more and more seriously because we have learned what information triggers action from the authorities."
In his experience, most construction workers who get caught in the region come from Eastern Europe.
"The foreign workers often have construction engineers or other backers who are Norwegian. The backers are responsible for making all paperwork look legal," says Sagmyr. 
The government wants a change in legislation surrounding confidentiality which would allow NAV workers to share important information with inspection authorities to help them uncover work-related crime.
Across national borders
Disruption patrols are also being set up in Oslo, and efforts are being made to set up more in other places in Norway. Vidar Sagmyr recently visited a similar group in Stockholm, "Fair Play Bygg" to share knowledge. Just like the disruption patrol, the Swedes are temporarily financed by the social partners.
"Both realised the work we do separately is very important,. We can learn a lot from each other. At Fair Play Bygg, we noticed how efficient the disruption patrol's collaboration with Norwegian workplace crime units is. Fair Play Bygg has long been pushing for a similar cooperation in Sweden. Fair Play Bygg wants to keep up our contact with the disruption patrol," says Peter Leander who heads the company.
"I think the biggest advantage with maintaining good contact between us, is that it allows us to learn about the similarities and differences between work-related crime in our two countries. In one to three years I hope we still have a good contact."
The Norwegian government has said it is also necessary to increase cooperation on a European level. The Labour Inspection Authority has therefore entered into collaborations with inspection authorities in Lithuania, Bulgaria and Poland. There is also cooperation on a Nordic level.