"Nothing is harder than giving up what does not work." That was the message from Norway's welfare administration director Sigrun Vågeng as she opened the largest Nordic conference on Supported Employment so far in Oslo. Is this a sign of a paradigm shift?
Sigrun Vågeng heads NAV, the Norwegian Labour and Welfare Administration, which deals with both employment services, unemployment benefits and municipal social workers. It employs 19,000 people and gets one third of the Norwegian state budget. 700,000 Norwegians get their main income from NAV. That is why researchers listen extra carefully to what she has to say. It is easy to learn something new, she claimed. What is difficult is to change what is already established.
"I believe it is a good message, but I am not sure that everyone in the audience got it. If they did, it is very relevant," says Øystein Spjelkavik, researcher at the Norwegian Work Research Institute and one of the Nordic region's top experts on Supported Employment. There were many NAV employees present during the 2018 INKO conference. It is important that their top leader is open to new ideas.
"This is about attitude and what level of knowledge NAV employees have when faced with someone who has greater challenges than others.
"Do you meet that person like they have always been met, thinking this is someone we can only feel sorry for, who will always be a looser in the labour market, or do you meet them with a more salutogenic attitude?"
People working with Supported Employment often mention Aaron Antonovsky (1924-1994) as one of their great inspirations. He was a professor in sociology at the Ben Gurion University in Israel, and was the person who coined the term salutogenesis.
The word means "the origin of health". The idea is to focus on the factors that create and maintain good health, more than on the factors that cause illness. 
Wikipedia explains it like this:
"He observed that stress is ubiquitous, but not all individuals have negative health outcomes in response to stress. Instead, some people achieve health despite their exposure to potentially disabling stress factors."
"If it was this attitude she referred to, it is very important. Because that means you have to do something about NAV's knowledge," says Øystein Spjelkavik.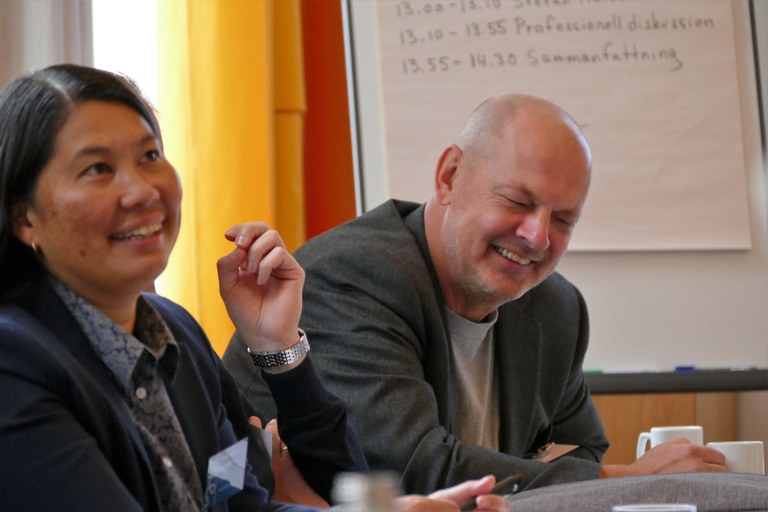 Øystein Spjelkavik and Annika Malm, a Customized Employment consultant, during one of  the seminars at INKO 2018.
Because what would happen if the welfare administration, rather than allowing diagnosis determine who should be given the chance to enter the labour market, really embraced the idea of using the individual's working ability as a starting point?
The INKO conference coincided with the presentation of the Norwegian budget for 2019. It proposed to set aside 125 million Norwegian kroner (€13.2m) for the joint effort to create a more inclusive working life, which the Minister of Labour Anniken Haugland had called for. One aim is for 5% of newly appointed state employees to be people with psychological challenges or "holes in their CVs".
Is this a big sum of money?
"The sum set aside for Supported Employment has increased year on year, and every little helps. Yet in light of the fact that we have a total pot of 13 billion kroner (€1.37bn) for employment services, this is still a very small sum of money."  
How would you distribute NAV's budget?
"I would confer with Vågeng and her experts and local NAV leaders to see how many resources would be needed to really achieve a paradigm shift."
Has there been a paradigm shift like this anywhere in the world?
"No. There are some states in the USA that say Supported Employment should be a first priority, but in practice this is not the case.
"So a paradigm shift has never happened, and it is probably the wrong term. But I imagine we can achieve a shift in perspectives, in how we look at who can participate in the labour market. Perhaps you could use the term rhetorically within NAV when talking about the old and the new model?"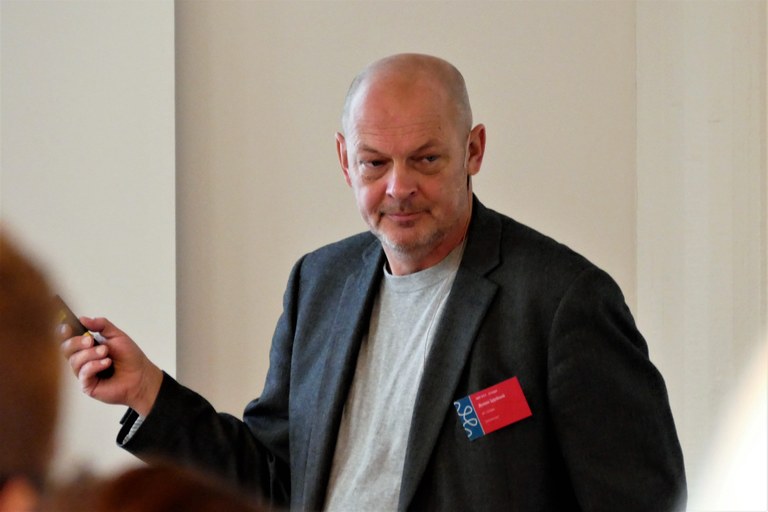 Johanna Gustafsson has written a PhD thesis on Supported Employment, and told the conference how attitudes to people with psychiatric problems vary in society. According to her, you could divide them into three groups: Those who only consider it an illness, those who believe problems only emerge when people are exposed to the environment and those who consider people with psychological problems as heroes – who manage "despite everything".
Some companies have specialised in hiring people with Asperger's, since they are considered to be able to perform certain tasks very well – like looking for errors in computer programs. Are there other groups with similar skills among people with psychological diagnosis?
"Generally speaking it is rare. But something does happen when we meet people who are different. Today's workplaces are suffering under so many cuts that there is rarely space for this. I once visited the Charles University in Prague, where they had employed a person with learning difficulties as a mentor for new students. He wore a uniform and showed them where they could find everything across the university – like where the toilets were situated. The university had even measured how effective this was, and found that students got to grips with things faster when he was their mentor.
"Finally we must look at productivity. Must we really keep unproductive people out in order to achieve high levels of productivity?"
During the conference there has been a lot of focus on employers and their role. Experience shows that it is easier to place SE candidates in smaller companies employing between eight and ten people, where the boss often has had some experience with people with psychological problems or physical handicaps. But will not that opportunity be filled very quickly if there is a real drive to implement Supported Employment? 
"It is wrong to think along those terms. We have to think that workplace inclusion will never end. New groups will always be coming in. We are never done. That is why it is so important to involve research and that the Nordic model also must include the workplace inclusion model. 
"No-one will ever find the solution to all of the problems, but we can imagine that if we secure new knowledge, things will get easier. That's what I'm hoping for, of course.
"The aim in the shorter term must be to create a safer theoretical and practical framework for workplace inclusion. Many believe we have come far with Supported Employment, but for me things have only just begun," says Øystein Spjelkavik.