For many years there has been talk about the new working life, where work is more about doing something meaningful than about making money. But are we really seeing the emergence of a new type of independent worker who feels collective agreements and permanent contracts are nothing but obstacles?
During this year's annual conference of Norway's Confederation of Vocational Unions (YS) on 13 and 14 October, four researchers from Oslo's Work Research Institute (AFI) explored what the annual YS barometre could teach us about the new working life. The barometre has been made by AFI every year for the past seven years on commission from the union.
More than 3,000 employees answer questions on issues like trade union legitimacy, working conditions, gender equality and support for collective agreements. Cathrine Egeland began by showing the image of Charlie Chaplin disappearing into a machine's cogwheels in his film Modern Times. She reminded people that the vision of the new working life is intimately linked with the presumption that the old working class is disappearing, with its monotonous industrial or office tasks. It is being replaced by a new and creative class, often symbolised by a picture of a person sitting with a laptop on the beach under the palm trees.
"The new creative class can work when and where it wants. Wages and job security are hopelessly outdated terms — or so they say. But have we allowed ourselves to be seduced by that image? Is it real?" said Cathrine Egeland.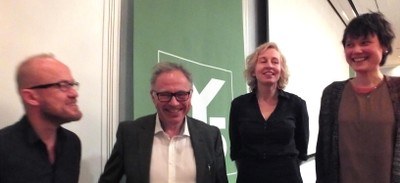 She and Ingar Brattbakk, Anne Cecilie Bergene and Arild H. Steen (the AFI Director) presented a matrix with two underlying dimensions. One is how the participants in the YS barometer have answered several different questions on whether they identify with  individualism or collectivism, for instance when it comes to the setting of wage levels. The other dimension is what is more important — money or self-fulfilment?
The four groups can be symbolised by the industry worker, who wants a collective agreement and for whom money matters the most; the salesperson who is equally interested in money but who believes you look after number one; the nurse who supports the community but believes a meaningful job is more important and better for society than high wages, and finally there is the creative freelancer who believes the most important thing is self-fulfilment and being as independent as possible. 
"Looking at the answers in the YS barometer, the 'industry worker' represents the strongest group at 37 percent. 'Sales people' are the second largest group at 27 percent followed by 'the nurse' at 22 percent," said Cathrine Egeland.
"The smallest group, at just 15 percent, were those who wanted self-fulfilment and individual solutions. The collectivist groups make up two thirds of the labour force."
By studying the groups in more detail it is possible to see which factors land you in one or the other. One important factor is gender. Women dominate among those who lean toward collectivism. Other factors are age, education and income. 
"If we look at all of these factors, we see that what plays the biggest role if you are interested in self-fulfilment is if you are a woman, is a high earner, work in the public sector and are older," said Ingar Brattbakk.
This gives a different image of working life from what we are used to. Those who are most proud of their job and who like telling others about it are workers who identify with collectivism and still seek self-fulfilment. 
"The 'nurse' is the proudest of his or her job, and its social value plays a big part. Self-fulfilment is not only about reaching your own goals, there is a collective aspect to it as well," says  Ingar Brattbakk.
Cathrine Egeland put it even more bluntly:
"The story about the new working life must be toned down and re-told, where the main character wants to reach his or her own goals at the same time as reaching goals identified by society and the community. Perhaps this is about the feminisation of working life?"
Anne Cecilie Bergene finally pointed to some conclusions the trade unions might want to draw from the report about the new worker:
"From the way in which the new working life has been presented it might seem like the trade unions' role has become impossible," she said.
"But if we look at those who are more individualistic, three out of four have previously been members of a trade union, and one in three would consider joining."
Collective agreements find most support among highly educated people on low wages. 
"As many as 80 percent of them want trade unions to negotiate salary levels. The unions' greatest challenge is not to keep members who are negative about the union from leaving, but stop those who are apathetic from doing so," said Anne Cecilie Bergene.