There seems to be an obvious link between job engagement and high productivity. Nordic politicians highlight the work environment as a competitive factor and hope it can lead to increased growth. But it's not that simple. There are loose cannons and lost sheep among workers too.
Benedicte Brøgger and Robert Salomon from the Norwegian Work Research Institute, AFI, have dived deep into job engagement literature. They've written the report 'Working with great job engagement – what's in it for business?' on commission from Virke, the Enterprise Federation of Norway, which represents companies within the service industry, retail and education. 
The interest in job engagement is part of a greater change within work environment research, which focuses not only on the negative factors in the workplace, but also on what is called positive psychology.
Job engagement can take many forms, like being so engrossed in your work that time flies and it is hard to tear yourself away from what you're doing. Other factors include the amount of energy workers have and how motivated they are to put in extra work. Do they take pride in their work and are they inspired by it?
"Job engagement can be expressed in two ways; how motivated the workers are and how well they identify with the company's goals," says Bendicte Brøgger.
In the chart below you have workers who are neither motivated nor working towards the company's goal. They are called 'lost sheep' by Alan Crozier, in one of the more than 200 studies which Brøgger and Salomon have gone through:
The opposite of the lost sheep are the committed workers, those who are both motivated and who understand the company's goals. The 'enthusiastic amateurs' understand what the company's goals are but do not do enough in order to achieve them. It is possible to enjoy work without being productive.
The amateurs' opposites are the 'loose cannons'. These are workers who are committed but who have their own agenda.
"The loose cannons are first and foremost found within academic occupations, and they can become a problem for the rest of the company because they follow their own special interests."
Complex term
Alan Crozier's introduction is only one of many ways to look at job engagement as a more complex term.
"What is almost always missing in these studies is the question of power. An employer can't just steal the workers' energy or get them to identify with the company's goals if they are not allowed to help shape them," says Benedicte Brøgger.
There is also the question of what should happen with the resulting economic gains. Should they be divided or should only the employer or owners be allowed to control them?
Some US studies indicate what kind of gains would result from more commitment from a larger number of workers. According to a 2001 US Gallup survey, 18 percent of all staff over 18 were not committed to their job. If the companies could have reduced that number to 13 percent, it would increase the country's productivity by 79 billion dollars.
Yet Benedicte Brøgger is wary of turning the question of job engagement into a money issue.
"Increasing job engagement has other consequences, like more innovative companies and improved customer relations because you have workers who care about what they're working with," she says. 
Enthusiastic air hostess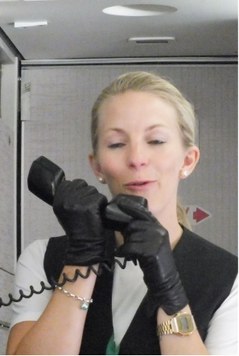 Luck would have it that we carried the AFI report on a plane journey with Wideroe in the north of Norway, where we were given an impromptu demonstration of job engagement when air hostess Wenche Haaland, completely new in her job – it was her third day – read the safety briefing with an enthusiasm as if it was the most fun she could ever have. A senior air hostess was with her which helped her feel safe performing her tasks. 
"The way in which new people are welcomed at work is important to whether they will enjoy work or not," says Bendicte Brøgger.  
She has also been part of a previous Nordic survey looking at whether good work environments can help improve competitiveness. Or is the opposite the case – that the work environment in growth industries is improving because it is easier to find suitable tasks than in a company which is stagnating or facing cuts?
One of the suggestions in the Nordic report on growth factors was to develop comparable numbers and a barometer to measure the state of the psychological work environment. 
Read more about the report here:
Experts: action needed to combat bad psychosocial work environments