Solicitors are rarely considered to be the most relaxed and easy going professional group, but Helsinki solicitor firm Fondia is challenging the stereotypes. The office is teaming with recycled goods, soft values and fun and games – in all seriousness.
"Our neighbours below complained to our boss that there was too much laughing and noise coming from here. He answered that this was definitely not something he was going to do anything about," says Pirta Karlsson, Fondia's head of personnel.
As we arrive in the office, that same managing director – Jorma Vartia – has just arrived. He is carrying a large see-through plastic bag with what looks like plastic bandy sticks and other sporting toys. He says a cheerful hello to everyone in the coffee room, which looks more like a bohemian café than your usual resting space in a law firm.
The best workplace
When Fondia was founded in 2004 the idea was to make it Finland's best workplace for lawyers. A third place in the competition for Finland's best workplace – the diploma hangs in the coffee room – shows that the ambition was more than realistic. Fondia is actually the best employer for lawyers in the whole of Europe, according to Great Place to Work Institute.
Lawyers are known to work hard. They face long working days and demanding tasks. But at Fondia, eight hours rule. All overtime is gathered in a hours bank and must be taken out. 
"Our culture means we have avoided a model where people work late into the night. There is always someone who'll say: go home now. That happens at six o'clock, not at 10pm."
Flexible working hours is one important part of the package. People are expected to fill their own working day in a way which suits them the best – apart from when the customers demand attention of course.
"I came here from another world. The difference is that people don't complain of being tired or in a hurry. People are always in a good mood. This proves the balance is right," says Pirta Karlsson.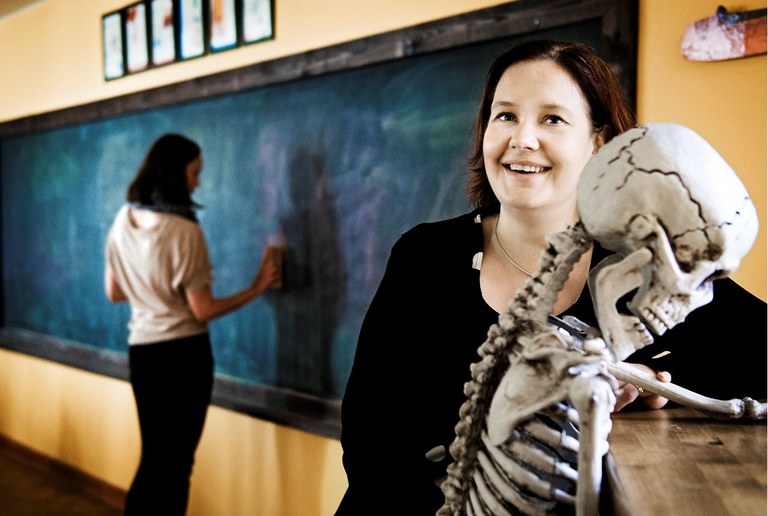 Pirta Karlsson with what could be the remains of the company's oldest employee
Whisky in the bottles
She and communicator Marja Näsi guide us through the office: from the play room where we stay a while, to the Goa room with pillows on the floor and Indian furniture, via the Gentlemen's room (stuffed pike and head of an elk on the wall, pool table, whisky bottles with tumblers on a table – and yes, the bottles do contain liquid gold) to the old fashioned classroom where internal education takes place and customers can have their events, for instance annual general meetings.
The Silence is a room where you can lock the door and get a massage, while room names like The Living Room, The Front Room, The Tea Saloon and The Library point to other themes.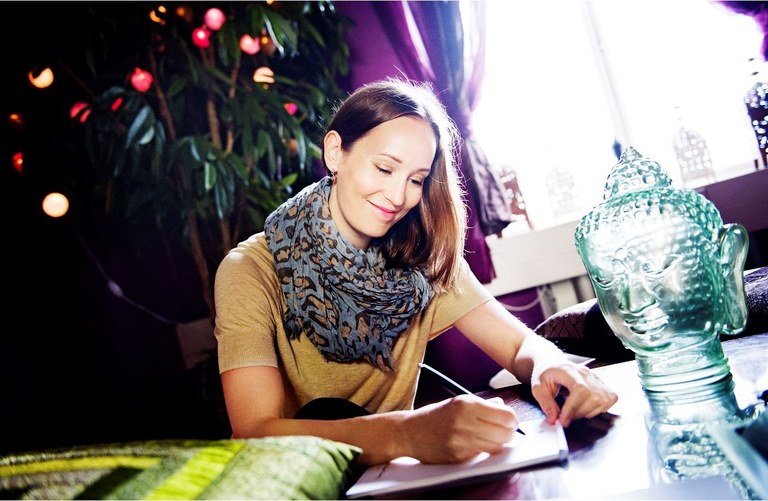 Marja Näsi enjoys working in "Goa"
No interior architect has sat foot in the central Helsinki office. The staff themselves have been container diving, trawling flea markets, doing online second hand furniture shopping, brought in their own furniture or, in some cases, been shopping at Ikea. And without the right work culture the interior design is nothing but an empty backdrop. It must be filled with meaningful and challenging work. 
Humour a must
Pirta Karlsson says the selection process is very important when they hire new lawyers. Bigheads and strivers don't fit in, the community spirit is the important thing. People should care and be considerate – and have a good sense of humour. Job interviews are held in the playroom: those who aren't comfortable sitting there among ice hockey games and toys will not get a job at Fondia.
One important part of Fondia's business model is to offer legal services to small and middle sized businesses. Many of the staff have themselves been responsible for the a company's legal affairs and they know how the customers think. The lawyers are relatively experienced – the average work experience is 13 years. The law firm employs around 100 people and has offices across Finland and also in Stockholm. These are, in other words, people who know what they're doing. The idea is also to offer customers straight-talking legal advice without using the usual legalese.   
"Most of our customers want simple services: what shall I do instead of providing a 15 pages long investigation of various legal aspects. Our lawyers say: in my opinion you should do it like this," says Marja Näsi.
Pirta Karlsson says efficiency cannot be the most important thing.
"We cannot maintain the same productivity if others work 12 hour days while we work 8 hours – it's a completely different ballgame."
Meanwhile, managing director Jorma Vartia says he does not want a single case of burnout on his watch. And according to the head of personnel the sick leave statistics is very positive, as well as the number of people leaving for other jobs. 
"People need change. It is only healthy that people seek other pastures once in a while."
Creating their own job
Fondia sounds like a model workplace. According to senior researcher Jari Hakanen at the Finnish Institute of Occupational Health, being given the chance to adapt your job according to your own needs is one of the most important sources of involvement at work – or what we call job engagement.
"We're talking about workplaces where people can create their own work. This is also the key to innovation."
The feeling of community and striving for a common interest is equally important for involvement. You also need leaders who are there to create conditions which will allow staff to succeed; a servant leadership.
"In some workplaces it goes without saying that people must use their own heads and their own experience – the boss trusts people and gives them freedom. Then you have the opposite where the boss is full of disdain or doesn't care about the staff."
Anyhow, the authoritarian leadership has reached its conclusion. While the older generation succumbed through duty or force, the new generation will not be humiliated but demands to be heard.
Work must feel challenging and independent enough. You need feedback. People must be allowed to feel that they are succeeding. Then you get jobs which create energy. 
"At some stage everybody will experience that what they are doing is not being sufficiently appreciated or they don't get enough feedback."
Jari Hakanen heads a research project where the aim is to find models for how to increase involvement at work. The first report, The Spiral of Inspiration – Innovative and flourishing work communities, involves 87 workplaces and is now ready. The next stage is turning the research findings into practical reality.
Hakanen thinks job engagement is an obvious path to better growth and that it will have  other positive effects, like reducing workplace accidents. He has been interested in this for a long time, and now other researchers are taking up his lead. 
"Earlier research focused on stress and sick leave. This has come in the past ten years."