"We should look after our senior staff, but it is not our intention to turn Linjegods into a workplace exclusively for older workers. We must also attract the young, so that we get what we call a success mix of age groups, says Asbjørn Aanesen, who is organisational director at Linjegods. He is responsible for making as many staff as possible stay on in the distribution company – until they reach retirement age.
In the 350 metre long freight terminal at Alnabru, where 20.000 parcels can be handled during one single shift, Svein Kristoffersen has a simple recipe for making more people work longer:
"Shorter days and more money," he says.
He himself is 60, and should be working for seven more years before he can retire. Norway has one of Europe's highest retirement ages, but that is on paper only. Svein Kristoffersen is part of the transport workers' union. Like many other trade unions, it has negotiated a settlement where members can retire at 62, with a slightly lower pension.
Counting those who retire because of ill health the real retirement age is even lower. In Linjegods it is only 58,3 year.
Watching the speed of work in the 350 metre long terminal, built around the same principle as airport luggage handling halls, it is easy to see why this is a workplace which can wear employees down.
Both trains and trucks arrive at the terminal from abroad and from Norwegian companies. Parcels are unwrapped and put on a ramp which takes them up to a main conveyor belt circling through the entire terminal. Each parcel is marked with barcodes indicating its destination. A computer scans the code and makes sure the parcel heads in the right direction before being packed into containers, which are then picked up by a different truck.
"The most demanding work physically is stowing the parcels into the containers. The parcel should not weigh more than 30 kilos, but that rule is not always respected, says Svein Kristoffersen.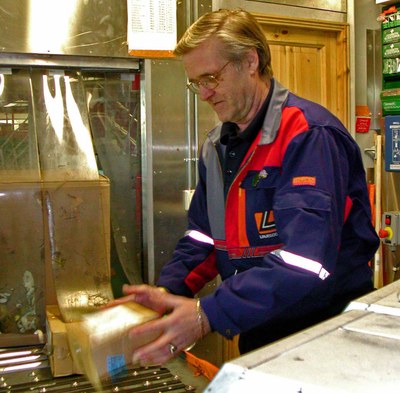 If a barcode malfunctions, or if a parcel stays on the conveyor belt for more than three rounds, it is brought into a special room where Svein Kristoffersen quickly must work out the parcel's destination. He fixes a new barcode to the
parcel and sends it back out to the main conveyor belt. Using computer screens, he also monitors the entire freight facility, making sure everything works as it should.
Even though he doesn't have to do any lifting, approximately one in eight parcels end up where he is working, and they all have to be turned around and examined.
"I've said that if I stay healthy, I'll keep working for at least another year and a half. Then we'll see what I manage", he says.
It isn't just the work which is tiresome. Every day he and his wife Astrid drive 70 kilometers from their home in Eidsvoll to Alnabru.
"We both work the evening shift now, but when the children were young we only saw each other when we met on our way to or from work.
Svein Kristoffersen has worked in Linjegods for 29 years, first as a driver, later in the freight terminal.
"The job I've got now is easier than being down on the ramps. But there is still a lot of wear on the neck and shoulders," he says.
Senior workers needed
The average age of the 200 freight handlers working at the Alnabru freight terminal is 37,5 years. But for the whole of Linjegods the number of older workers is set to increase considerably over the next few years.
"When we last analysed the situation a few years ago, 25 per cent of the workers were between 50 and 67. By 2010 that percentage will have risen to 37", says Asbjørn Aanesen.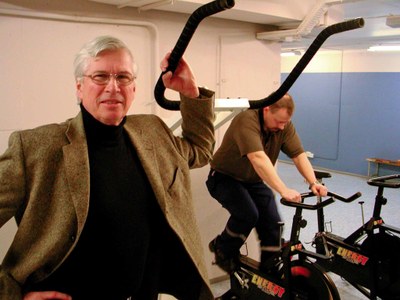 Asbjørn Aanensen: "Older Workers are needed".
At the same time there was an increase in sick leave, and an increasing number of employees took early retirement, or retired for health reasons.
"In face of a 10 per cent turnover demand, we're going to need to replace workers to the tune of 1.150 full time positions."
The cost of hiring and educating new staff, in addition to the high percentage of mistakes they make at the start of their career, is a great expense for Linjegods.
The company has 1.120 employees and a turnover of 225 million Euro. At the same time fewer and fewer young people are entering the work market.
"We've identified the developments in the work market earlier than other Norwegian businesses. Already a few years ago we started looking for ways to make it easier for senior staff to stay on and work for longer.
"They examined both preventative efforts to avoid workers being exposed to wear, and also how to adapt tasks to better suit the older workers. There was also a need for economic incentives. But equally important was a change of attitude within the company.
"It was important to realise the senior workers are a resource. Each senior worker who we manage to hang on to for longer brings double gains. We avoid recruitment costs, and have an experienced person who can train the younger ones."
Senior workers are a resource
All this was new to many of the senior workers. The company no longer looks for ways to pay off older workers to retire early when it needs to cut back on costs. Age is no longer relevant. Now every worker above 55 is invited to discuss how his or her work conditions can be individually adapted to them. There is also a yearly three-day motivational seminar at a mountain resort.
"Many who went there thought they would only be told how large their pensions were going to be", says Svein Kristoffersen.
Instead they were told how much they were needed, about special senior contracts and how the company was ready to adapt to their needs.
Perhaps when it comes down to it, these are the arguments that stick: older workers are needed and their competence is in demand.
"Our work with senior workers has also taught us that there are other age groups out there with individual needs. We will now move on and work with them", says Asbjørn Aanesen.