Fredrik Karlström has become a veteran of Nordic labour market cooperation. The Minister for Industry and Trade in Åland's government pops up in pictures everywhere in the Nordic Labour Journal archives. The first was taken in 2012, where he poses with Nordic colleagues on the quayside in Longyearbyen in Svalbard.
"The Svalbard trip is one of my best memories from the last time I was a government minister. Hillevi Engström, the then Swedish Minister for Employment, asked if I wanted to go with her in the Swedish government jet," he says as we meet during the Nordic labour ministers' meeting in Helsinki.
The jet he talks about was a Gulfstream that once belonged to the Canadian whisky producer Seagram's CEO. Next to the seats, under large windows, are round recesses where a whisky glass fits perfectly.
"With my interest in planes, this was huge."
Trained as a pilot in the USA
It was, after all, not a given that Fredrik Karlström was going to become a politician. He trained as a helicopter pilot in the USA, got a commercial pilot's license and an instrument rating for both. But he never got the job as a helicopter pilot in Åland he had been dreaming of. 
"I have been thinking how my life might have been very different had I got that job."
Instead, he gained a more chequered working life experience. He was head of a commercial radio station, started several companies and constructed some large commercial properties before turning to politics. The 1999 Åland parliamentary elections were his first attempt, and four years later he managed to get elected.
At the 2011 elections, he got the most votes in his own party and was fifth best out of all the 250 candidates. He was made Minister for Industry and Trade and as a result got to participate at the Nordic Council of Ministers.
Foreign policy arena
"The Nordic cooperation is incredibly important for Åland. That is our foreign policy arena. So I prioritise participating in all the meetings I can. This is not only to talk through the issues on the agenda. It is about talking to the other Nordic ministers about other issues too.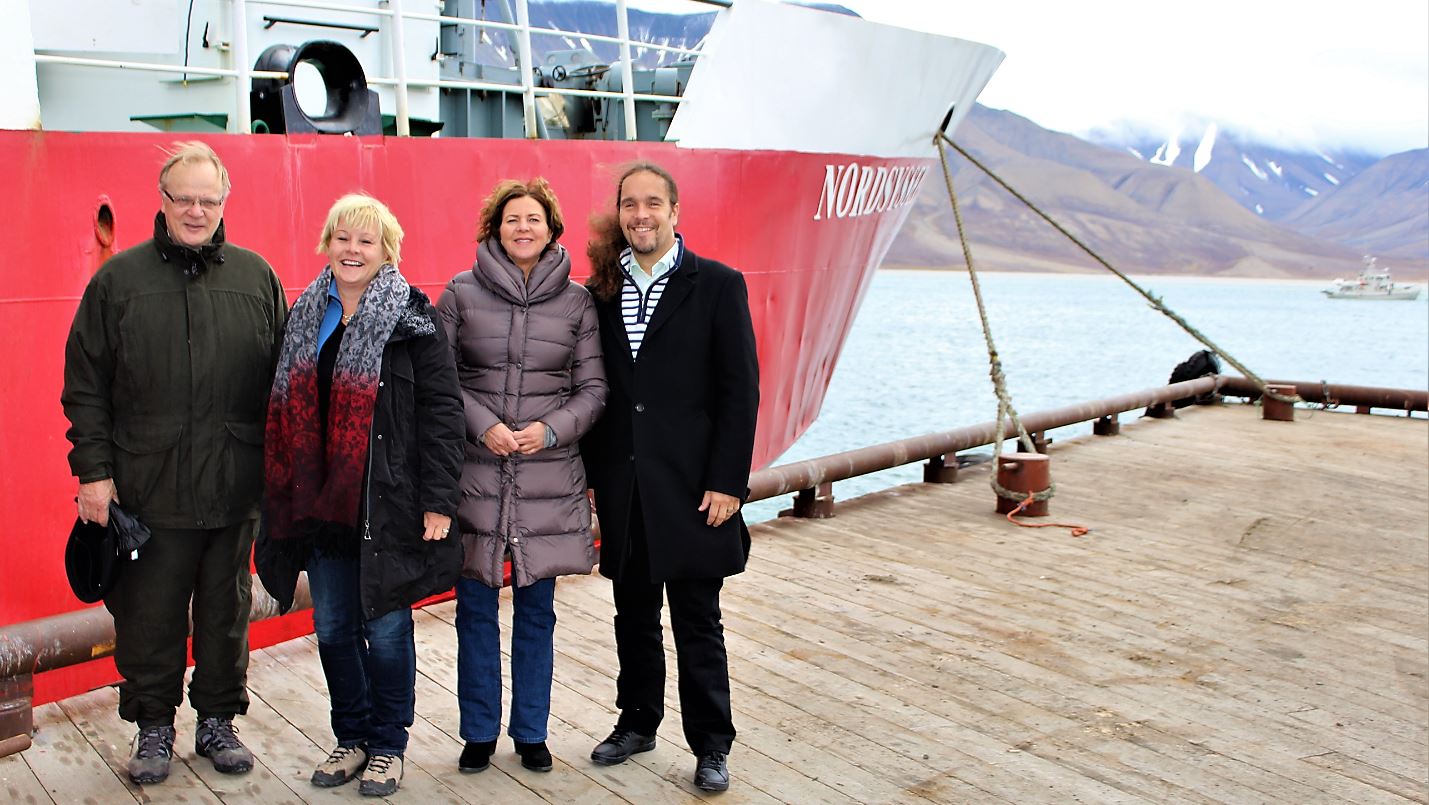 Four labour ministers in Svalbard in 2012: Lauri Ihalainen, Finland; Hillevi Engström, Sweden; Hanne Bjurstrøm, Norway and Fredrik Karlström, Åland, in front of the Governor's vessel. Photo: Berit Kvam.
Fredrik Karlström calls himself "a proud nordist", but the last 20 months have brought major challenges. 
"The Corona pandemic was like a knife to my heart. After nearly 70 years of free movement, everything changed. Åland is sometimes called an ideal society with low unemployment, high levels of welfare and a stable economy. Suddenly, almost overnight, unemployment rose to 13.5%." 
Åland's GDP fell by a massive 19% in 2020. 
The Finnish government introduced a state of emergency and forced ferry companies to stop selling tickets. The ferries are key to Åland's economy, and the usual 9,000 annual landings were reduced to nearly zero.
Managed the pandemic well
Fredrik Karlström is still upset.
"It is not borders that transmit the virus. We know this in Åland. Between March and December 2020, before the vaccines, around 70,000 people travelled from Sweden to Åland and around the same number arrived from Finland.
"Despite this only 22 people were thought to have been infected on the island. Since the start of the pandemic, around 500 people have been confirmed infected with the virus, around 25 went to hospital, around five ended up in ICU, no one needed respirators and nobody has died. So the pandemic has not hit us particularly hard medically, yet the side-effects have been enormous."
Could the Finnish government have handled the pandemic differently? Yes, at least when it comes to border restrictions, thinks Fredrik Karlström. He feels they did not properly consider just how important border commuters is to Åland as a region.
"We have 0.54% of the total Finnish population. But Ålanders make up 15% of people commuting from Finland to another country."
The Corona pandemic meant major challenges in Åland too. The government adopted wide-ranging measures with the motto "better to do too much too early, than too little too late" in order to save the island's businesses. This has come at a cost, but fewer businesses went bust in 2020 than in 2019.
Immigration continues
The tourism industry had a record turnover last summer thanks to a large number of Finnish visitors. Despite Corona, immigration has also continued to increase. For Fredrik Karlström it is very important that the population continues to grow. 
"Each year some 600 to 700 people move away from Åland. Most are between 16 and 25, and many are naturally looking to study or work. But at the same time, some 1,000 move here every year."
With just over 30,000 citizens, Åland is the smallest of the three autonomous areas in the Nordic region. The Faroe Islands have passed 50,000 while Greenland has 56,000 citizens.
"If these 1,000 people did not move here every year, we would quickly face major challenges. That is why it is so very important to attract many people and to continue to work for increased immigration." 
A small-scale society
The arrivals are of all ages and come for various reasons. 
"Some are moving back home, others do it for love or because they want to live in a more small-scale society where everything is close, where it is very safe while there is also a varied business environment with three listed companies and 2,600 businesses plus around 50 restaurants," says Fredrik Karlström. 
"If you sell a terraced house in Täby [a Stockholm suburb] you can afford a luxury villa in Åland and still have money to spare."
But where will all these people work? How sustainable is it to base so much of Åland's economy on ferries, that in turn depend on duty-free products like alcohol and tobacco? Åland is an EU member, but as it joined together with Finland in 1995 it gained an exception from being part of the European excise duty cooperation.  
"When we joined the EU in 1995, it was absolutely crucial for us to keep the ferry routes. The boat operators represented around 45% of Åland's economy, and counting secondary businesses it was around 60%. To maintain duty-free sales was the solution.
"Today the boat operators make up some 19% of the economy, so 25 years later our business sector has diversified."
IT experts stay
As is the case in many other countries, Åland has high expectations for IT. Åland's tech cluster has grown a lot over the past decades. The gaming company Paf, with around 200 employees, is an important business for Åland. It runs Åland's legal gaming monopoly. Despite a tough 2020, its turnover fell by only 1% to 113 million euro. The operating profit, however, fell by 35% to 16.7 million euro.
"One interesting development in the wake of Corona is that even if major global computer companies still poach Paf employees, they do not move away from the island. The majority of them have started to work internationally but from home in Åland," says Fredrik Karlström.
Wind power is another industry that could form a major part of Åland's future economy. Not long ago the Sunnanvind project was unveiled. It aims to open up areas where private companies are invited to construct wind farms with a total of 500 wind turbines, each with a 12MW capacity.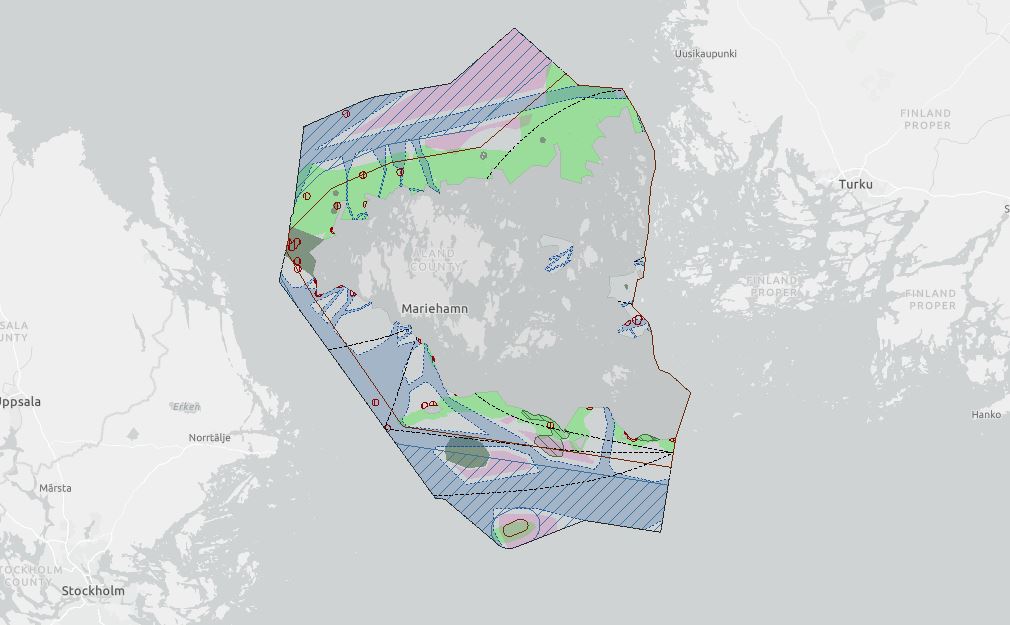 Åland consists of over 6,500 islands and a large area of sea between Sweden and Finland. Offshore wind parks are planned in the pink areas. Source: Government of Åland.  
"This would represent a production 100 times bigger than the electricity consumption of the whole of Åland. The energy could be exported to Finland, Sweden and Estonia. The project is too large for Åland to finance on its own, but we have several advantages compared to other, similar projects."
The total cost is an estimated 4.2 billion euro. One advantage is that the 300 metres tall wind turbines will be constructed in the seas to the north of Åland, which are owned by the government. There, the wind is more constant than in other areas. Åland's demilitarised and autonomous status also means it has the legislative power over construction, energy and the environment. 
"The other day, the Bank of Åland also announced that they, in cooperation with OX2, will start cooperating on one of the projects withion the Suinnanvind framework. It will consist of 250 wind turbines in an area of sea to the south of Åland. This should deliver around 20 TWh a year," says Fredrik Karlström.