It is hard making small languages part of a digital environment dominated by a few IT giants. Icelandic authorities have fought to make Icelandic a part of the IT environment, which is increasingly important as more and more things are operated with our voices. Just ask Alexa, Siri and Bixby. Not in Icelandic though, they do not understand it.
The problems facing smaller Nordic languages like Greenlandic and the Sami languages have been addressed before in the NLJ. Icelandic is in a slightly better position and is at least part of Google Translate now.
Much remains to be done to secure Icelandic in the digital world, but a lot has also been achieved in recent years. In 2017, the Icelandic government introduced a five-year language technology program. The main aim was to make Icelandic part of the digital society. 
Almannarómur (Voice of the public), a language technology centre founded in 2014, started working on achieving that aim in 2019. According to Jóhanna Vigdís Guðmundsdóttir, Almannarómur's CEO, this has gone well.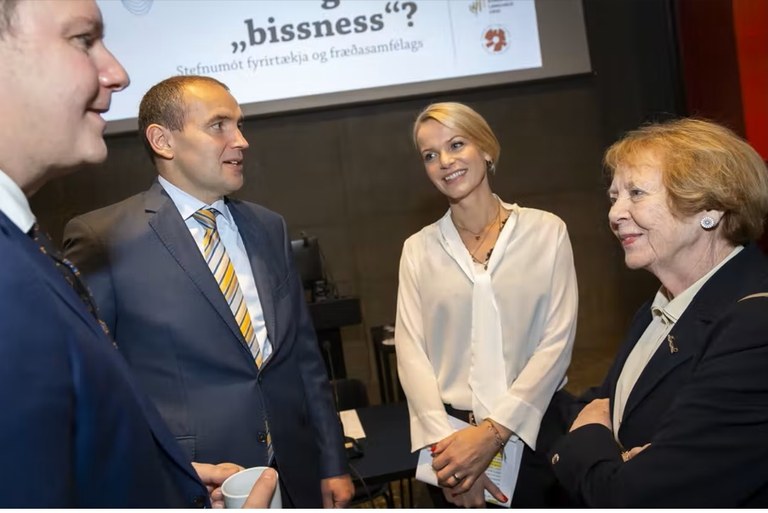 Almannarómur CEO Jóhanna Vigdís Guðmundsdóttir meets two Presidents, the incumbent Guðni Th. Jóhannesson and former President and UNESCO's Goodwill Ambassador for languages Vigdís Finnbogadóttir. Both are protectors of  Allmannarómur.
"The language technology plan was supposed to last for five years, but we have managed to almost finish it in three years," she says. 
"What we've managed to do in these three years is to build Icelandic language technology infrastructure. That was necessary because we must build a road before we can drive on it."
By infrastructure, she means data collection of words in Icelandic and English so they can be easily translated between the two, and to develop software that can use this data in digital hardware – computers, smartphones and so on.
"This is the basis, and on top of that we make speech analysers, text readers and other programs that enable the equipment to understand Icelandic, and 'talk' back to us in Icelandic as well."
Ongoing discussions with IT giants
Guðmundsdóttir says that the next step is to ensure that the technology is used in the hardware which plays an increasingly big part in people's lives. 
"One of the things I'm doing now is communication and discussions with the large IT companies. What we want is to be able to communicate in our own language with the products of these companies, like Google Home, Alexa, and Siri."
These discussions are extremely important, says Guðmundsdóttir.
"These companies can have such a big influence on the future of languages, and therefore their existence. It is necessary to protect the history and culture connected to these languages. The companies are very aware of this and have a special diversity policy in which the languages are a part. So my aim with communicating with these companies is to make sure they use our solutions."
There has already been progress. In February it was announced that a deal had been struck with Microsoft about the use of Icelandic language technology solutions. Discussions are ongoing with companies like Meta (owners of Facebook and Instagram), Apple, Amazon and Google. Negotiations with Microsoft are still ongoing, and Guðmundsdóttir hopes a deal can be made with most of the companies this year.
"We have done this differently from other countries with small languages. We have created a good infrastructure based on what these companies need. So we have a product to offer these companies which can be a part of their services and solutions. We ask them what they need from us, instead of asking them what they can do for us," says Guðmundsdóttir.
Making sure Icelandic still exists
Guðmundsdóttir is also in discussions with Icelandic companies that might want to use this technology to build up their services for their clients and other companies. 
"The companies that are in direct communication with their clients know what they need in these respects. In the next language technology plan there will be a huge emphasis on encouraging companies to use this, and update and change technology in a way that benefits them." 
The next stage will also focus on constantly evolving to meet new technology demands.  
"One example is artificial intelligence, which has changed dramatically in the last years. You could say that language technology is for the most part based on AI. We have adapted to the changes as they come but we still have to maintain the basis and even introduce new solutions to keep up with developments. So you could say that this project is endless." 
Guðmundsdóttir says that one of the main purposes of this is to make sure that the Icelandic language will still exist and be spoken. 
"That will not happen unless we can use it in every area of our daily lives."
Finally, when Guðmundsdóttir is asked when Siri, Alexa and all the others that like to listen to our orders will be able to understand in Iceland, she says: 
"I'm optimistic and I think it will happen in the next 12-18 months." 
This means that Icelandic iPhone owners can start to look forward to stopping saying "Hey Siri" and instead say: "Komdu sæl, Siri" in Icelandic.
Minister putting pressure on Disney
But Iceland is fighting for its language on several fronts. In February last year, Iceland's Minister of Culture Lilja D. Alfredsdottir sent a letter to Disney criticising the media company for having only some 40 movies on their Disney+ streaming service dubbed in Icelandic. She pointed out that Icelandic voiceovers were available for many more movies. 
After some persuasion, Disney replied to Alfredsdottir in June 2021, announcing that more than 600 titles Disney+ were being prepared to have Icelandic subtitles or dubbing, including classics like Fantasia, Peter Pan and Pinocchio. 
When the reply came, Alfredsdottir wrote on Facebook that it was obvious that Iceland's voice had been heard. 
If Guðmundsdóttir's words are anything to go by, we will find out soon whether the IT giants will hear that same voice.